Meyer lemons- those deep yellow-orange lemons with glossy, thin skins and a floral fragrance – are loved by cooks and foodies for their juiciness and sweet, complex flavor. Perhaps you've seen them in stores but were unsure what to do with them? We're nearing the end of Meyer lemon season (December through April), so if you haven't yet tried them, don't miss out! Here are five simple uses for the fruit that will have you eagerly awaiting next year's crop.
Salad dressing
Because they're less astringent than Eurekas, Meyer lemons make an especially nice salad dressing. Whisk together equal parts Meyer lemon juice and olive oil; add sea salt and freshly ground pepper to taste. Any fresh herbs you have on hand would be a nice addition. Use to dress a simple green salad, steamed vegetables or even fish.
Candied lemon slices
Meyers work great for candying or making marmalades because they have less bitter white pith. To make candied lemon rounds, thinly slice 6 lemons, removing any seeds. Simmer the slices in 3 cups water and 3 cups sugar until soft and translucent, 30-40 minutes. Store in the refrigerator in their syrup.
Lemon syrup for lemonade or cocktails
If you make the candied lemons above, the leftover syrup can be used to make lemonade. Use a ratio of 1 part syrup to 1 part lemon juice to 3 parts cold water for a sweet lemonade; add more straight lemon juice if you prefer more pucker. You can also make lemon-flavored syrup by warming equal amounts of sugar and water and adding zest to the syrup (use the zest of one lemon for every cup of water).  Bring to a simmer, remove from heat and let stand for 15 minutes to infuse the flavors, then strain. Keep refrigerated. The flavored syrup is also delicious in cocktails.
Meyer lemon ice
Who doesn't love the refreshingly tart flavor of a good lemon ice? Here's a basic recipe that can easily be doubled: Combine 1 cup sugar, 1 cup water and the zest of one lemon; warm in microwave or on stovetop just enough to dissolve the sugar. Cool, add 1 cup Meyer lemon juice, and freeze for 4 hours, stirring with a fork every 30 minutes to prevent the mixture from freezing solid. If you've already made lemon syrup, you can substitute that for the sugar and water.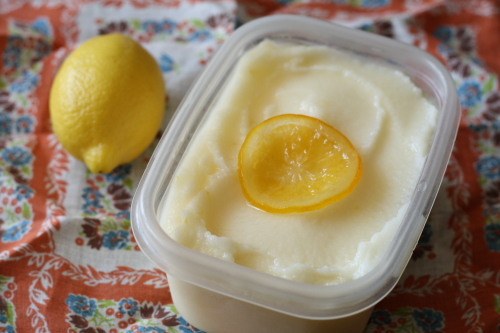 Salt-cured lemons
Salt-cured lemons, or preserved lemons, are a specialty of Moroccan cooking. Salt transforms the lemons, softening the peel, which can be chopped and added to dishes. Meyer lemons work especially well, as their thinner skins cure faster. They can be used anywhere you would use lemon and salt in a dish, or can stand in for olives. We like to add them to grated carrot salads, sautéed greens, and braised chicken dishes, or make a gremolata of chopped parsley, finely diced preserved lemon peel and a little olive oil to use on vegetables or fish. The brine is an excellent addition to a Bloody Mary. Here is a preserved lemon recipe that uses Meyer lemons.