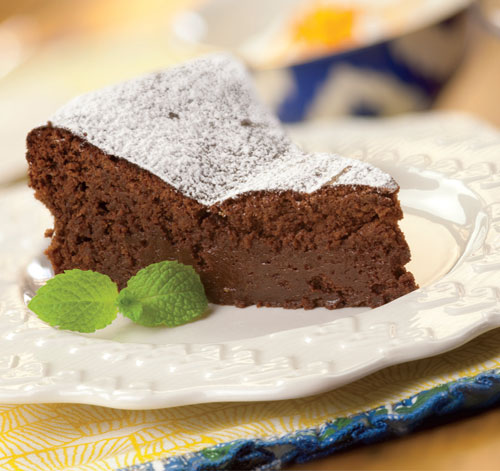 Chocolate Cake for Passover
Prep: 30 minutes plus cooling
Bake: 55 minutes • Serves: 12
1
bag (11.5 to 12 ounces) semisweet chocolate chunks
1/2
cup margarine (1 stick), cut into small pieces plus 1 tablespoon for pan
1/4
cup brewed espresso or very strong coffee
1
teaspoon orange zest
7
large eggs, separated
3/4
cup granulated sugar
Kosher powdered sugar for dusting (optional) (see Chef Tip)
1. Preheat oven to 350°. In microwave-safe large bowl, heat chocolate, 1/2 cup margarine, espresso and orange zest in microwave oven on medium (50% power) 1 minute, stirring once. Heat 45 to 60 seconds longer, and stir until chocolate melts; cool slightly.

2. In medium bowl, with mixer on high speed, beat egg whites 4 to 6 minutes or until soft peaks form. In large bowl, with mixer on high speed, beat egg yolks and 1/2 cup sugar 3 to 5 minutes or until pale and creamy. Reduce speed to low and beat in chocolate mixture. With rubber spatula, fold in about 1/4 of the egg whites until smooth. Fold in remaining egg whites until just combined.

3. Grease 9-inch springform pan with remaining 1 tablespoon margarine. Add remaining 1/4 cup sugar to pan and rotate pan to evenly coat bottom and sides of pan with sugar. Pour batter into prepared pan. Bake 55 to 65 minutes or until toothpick inserted 1-1/2 inches from edge of pan comes out with a few moist crumbs. Cool cake in pan on wire rack (cake may crack on top and settle upon cooling).

4. To serve, run small knife around edge of pan to loosen cake, then remove side of pan. Transfer cake to serving platter and dust with kosher powdered sugar, if desired.


Approximate nutritional values per serving: 327 Calories, 27g Fat (12g Saturated), 124mg Cholesterol, 147mg Sodium, 23g Carbohydrates, 4g Fiber, 7g Protein

Chef Tip
Traditional powdered sugar uses cornstarch as an anti-caking ingredient making it unsuitable for Passover. For a powdered sugar alternative, blend 1 cup granulated sugar and 2 teaspoons potato starch in blender on high speed until light and powdery. Store unused sugar in an airtight container.