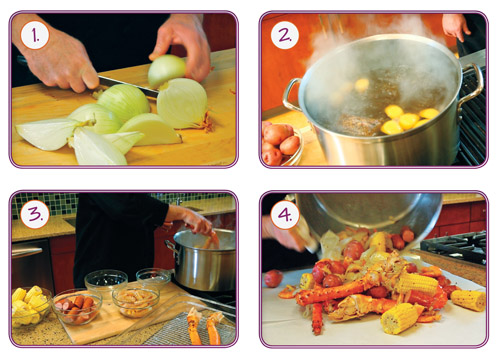 Crab & Shrimp Boil
Prep: 25 minutes plus standing • Cook: 25 minutes • Serves: 8
3
bottles (12 ounces each) pale ale or lager beer
2
packages (3 ounces each) crawfish, shrimp & crab boil in bag
3
large lemons, each quartered lengthwise
10
quarts water
3/4
cup salt
2
pounds red new potatoes
3
large onions, each cut into 1-inch wedges (about 4-1/2 cups)
2-1/2
pounds crab legs, thawed if necessary
1-1/2
pounds raw 16-20 count shell-on shrimp, thawed if necessary
1-1/4
pounds smoked sausage, cut into 2-inch pieces
4
ears of corn, husks and silks removed, each cut crosswise in half
1/2
cup unsalted butter (1 stick), cut into cubes
1/4
cup distilled white vinegar
1. In 18- to 20-quart saucepot or crab boil pot, combine beer, crab boil bags, lemons, water and salt; heat to boiling over high heat.

2. Add potatoes and heat to simmering; cook 10 minutes. Add onions and cook 5 minutes. Add crab legs, shrimp, sausage and corn; heat to boiling. Add butter and vinegar; cover saucepot and turn off heat. Let stand 10 minutes or until internal temperature of shrimp reaches 145°.

3. Drain crab leg and shrimp mixture, reserving some cooking broth for serving, if desired. Pour mixture out onto very large platter or covered surface to serve.


Approximate nutritional values per serving: 560 Calories, 29g Fat (14g Saturated), 250mg Cholesterol, 2989mg Sodium, 33g Carbohydrates, 4g Fiber, 41g Protein
Chef Tips
Adding the butter to the saucepot before letting the boil stand will help make it easier to remove the crab and shrimp shells, while the vinegar will add a bit of acidity to the shellfish. For more tips read our Crab and Shrimp Boil 101 article.