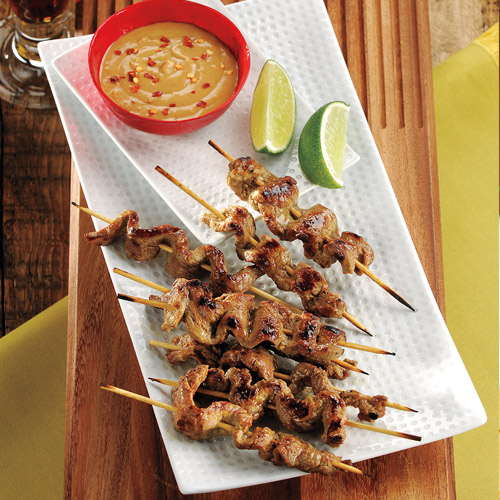 Flank Steak Saté with Peanut Dipping Sauce
Prep: 15 minutes plus standing and marinating • Grill: 4 minutes • Serves: 6
18
(6-inch) bamboo skewers
3
garlic cloves
1-1/4
cups unsweetened coconut milk
1/2
cup packed light brown sugar
2
tablespoons fresh lime juice
1-1/2
tablespoons fish sauce
1-1/2
tablespoons grated peeled fresh ginger
1/4
teaspoon turmeric powder
1-1/2
pounds flank steak, sliced diagonally across the grain into 1/4-inch-thick slices
2
green onions, thinly sliced (about 1/4 cup)
3/4
cup smooth peanut butter
1-1/2
tablespoons less-sodium soy sauce
1
teaspoon crushed red pepper flakes
1. In wide, shallow dish, cover skewers with water and let stand 30 minutes. Meanwhile, in blender or food processor with knife blade attached, purée garlic, 3/4 cup coconut milk, brown sugar, lime juice, fish sauce, ginger and turmeric.

2. Thread beef onto skewers; place in medium, deep bowl. Pour 1/2 cup coconut milk mixture over beef skewers and rotate to coat evenly. Refrigerate 30 minutes.

3. In small saucepot, heat onions, peanut butter, soy sauce, red pepper flakes, remaining 1/2 cup coconut milk and remaining coconut milk mixture over low heat until mixture simmers, stirring occasionally with whisk. Cook 2 minutes; remove saucepot from heat and keep warm. Makes about 1-3/4 cups sauce.

4. Prepare outdoor grill for direct grilling over medium-high heat. Remove beef from marinade; discard marinade. Place skewers on hot grill rack and cook 4 to 5 minutes or until cooked through, turning once. Serve beef sauté with peanut sauce for dipping.


Approximate nutritional values per serving: 531 Calories, 37g Fat (18g Saturated), 44mg Cholesterol, 374mg Sodium, 28g Carbohydrates, 3g Fiber, 26g Protein