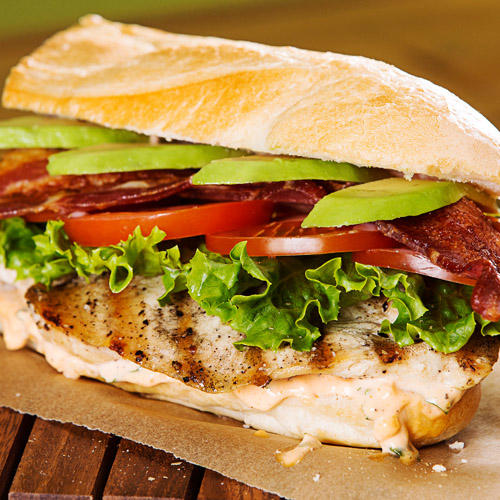 Grilled Chicken BLT with Basil Mayo
Prep: 20 minutes • Cook: 8 minutes • Serves: 4
8
slices hardwood smoked bacon (about 8 ounces)
1/2
cup olive oil or regular mayonnaise
3
tablespoons chopped fresh basil leaves
1
tablespoon fresh lemon juice
1-1/2
teaspoons Sriracha chile sauce
1
package (about 1-1/4 pounds) Natural thin sliced boneless, skinless chicken breast fillets
Nonstick cooking spray
1/4
teaspoon salt
1/4
teaspoon ground black pepper
1
loaf (16 ounces) French baguette
4
green leaf lettuce leaves
2
Roma tomatoes, each cut lengthwise into 1/8-inch-thick slices
1
firm-ripe avocado, thinly sliced
1. Prepare outdoor grill for direct grilling over medium heat. In large nonstick skillet, cook bacon over medium heat 6 to 8 minutes or until crisp, turning occasionally. Transfer bacon to paper towels to drain.

2. In small bowl, stir mayonnaise, basil, lemon juice and chile sauce until well combined; set aside.

3. Spray both sides of chicken with nonstick cooking spray; sprinkle with salt and pepper. Place chicken on hot grill rack. Cover and cook 8 to 10 minutes or until chicken loses its pink color throughout and internal temperature reaches 165°, turning once halfway through cooking.

4. Cut baguette horizontally in half, then cut loaf crosswise into 4 equal pieces. Evenly spread mayonnaise mixture on bottom halves of baguette. Layer chicken, lettuce, tomatoes, bacon and avocado over mayonnaise mixture; replace top halves of baguette.


Approximate nutritional values per serving: 714 calories, 18g total fat (4g saturated), 95 mg cholesterol, 1388mg sodium, 76g carbohydrate, 7g fiber, 43g protein