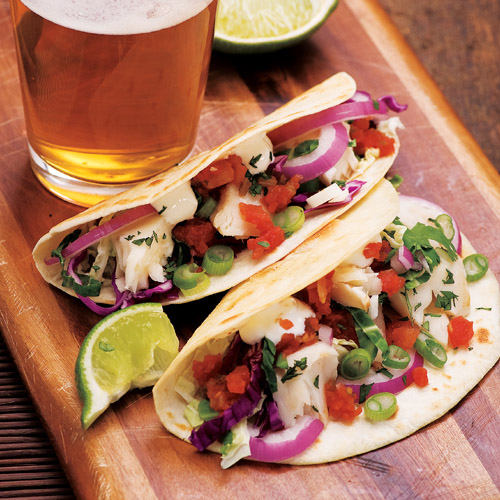 Grilled Cilantro-Lime Fish Tacos
Prep: 25 minutes plus marinating • Grill: 10 minutes • Serves: 4
Juice and zest of 2 limes
2
garlic cloves, minced
1
medium jalapeño pepper, finely chopped
2
tablespoons sesame oil
2
teaspoons chopped fresh cilantro leaves plus additional whole leaves
1
teaspoon kosher salt
1/2
teaspoon ground black pepper
1
pound boneless, skinless tilapia fillets, cut in half
Nonstick cooking spray
1/2
small red onion, thinly sliced
8
(6-inch) flour tortillas
1/8
head red or green cabbage, thinly sliced
1
cup pico de gallo salsa
1/2
cup light sour cream
4
teaspoons sliced green onions (from 1 bunch)
1. In small bowl, mix lime juice, lime zest, garlic, jalapeño, sesame oil, cilantro, salt and pepper. Place fish in large zip-top plastic bag and pour lime juice mixture into bag. Refrigerate 1 hour.

2. Prepare outdoor grill for direct grilling over medium-high heat. Tear 2 sheets of foil (each about 18 inches long). Place 1 sheet on work surface and spray center with nonstick cooking spray. Remove fish from marinade (discard all but 1 tablespoon), and transfer fish to center of foil. Pour reserved marinade and sprinkle red onion over fish. Place second sheet of foil over fish; fold edges together several times to seal.

3. Place packet on hot grill rack. Cover and cook 10 minutes. Carefully open 1 end to let steam escape, then open sides of foil packet.

4. On microwave-safe plate, place tortillas between 2 damp paper towels. Heat in microwave oven on high 10 seconds or until tortillas are warmed.

5. To serve, evenly divide cabbage, pico de gallo, sour cream, fish with red onion, green onions, and cilantro leaves if desired, over center of tortillas. Fold each in half to close.


Approximate nutritional values per serving: 466 Calories, 18g Fat (5g Saturated), 61mg Cholesterol, 957mg Sodium, 49g Carbohydrates, 3g Fiber, 28g Protein