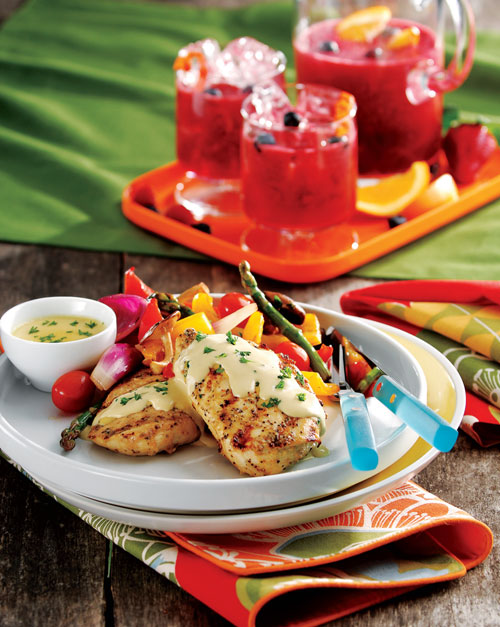 Grilled Dijon Chicken
Prep: 30 minutes Grill: 5 minutes Serves: 8
8
boneless, skinless chicken breasts (about 2-1/2 pounds)
5
tablespoons Dijon mustard
3/4
teaspoon salt
1/2
teaspoon ground black pepper
4
tablespoons butter
2
garlic cloves, minced
2
cups heavy cream
3
large egg yolks
1
teaspoon Worcestershire sauce
Vegetable oil
Chopped fresh parsley leaves (optional)
1. Prepare outdoor grill for direct grilling over medium-high heat. With meat mallet, pound chicken to 1/2- to 3/4-inch thickness. Coat both sides of chicken with 2 tablespoons mustard. Sprinkle chicken with 1/2 teaspoon salt and pepper; set aside.

2. In small saucepot, melt butter over low heat. Add garlic and cook 1 to 2 minutes, stirring constantly. Do not let garlic brown. Add cream and heat until mixture begins to simmer.

3. Meanwhile, in small bowl, whisk together remaining 3 tablespoons mustard, egg yolks, Worcestershire and remaining 1/4 teaspoon salt. To temper egg yolk mixture, transfer half the hot cream mixture into egg yolk mixture, then add egg yolk-cream mixture back to pot. Stirring constantly with whisk, heat 3 to 4 minutes or until sauce thickens; remove from heat.

4. Lightly oil hot grill rack. Place chicken on hot grill rack and cook 3 to 4 minutes per side or until chicken loses its pink color throughout and reaches an internal temperature of 165°. To serve, spoon sauce over chicken and sprinkle with parsley, if desired.


Approximate nutritional values per serving: 412 Calories, 32g Fat (18g Saturated), 243mg Cholesterol, 481mg Sodium, 3g Carbohydrates, 1g Fiber, 29g Protein

Chef Tip
Tempering is the process of slowly adding a hot liquid to eggs in order to gradually raise their temperature and prevent curdling.

Serving Tip
Rice pilaf is an excellent accompaniment to this dish.