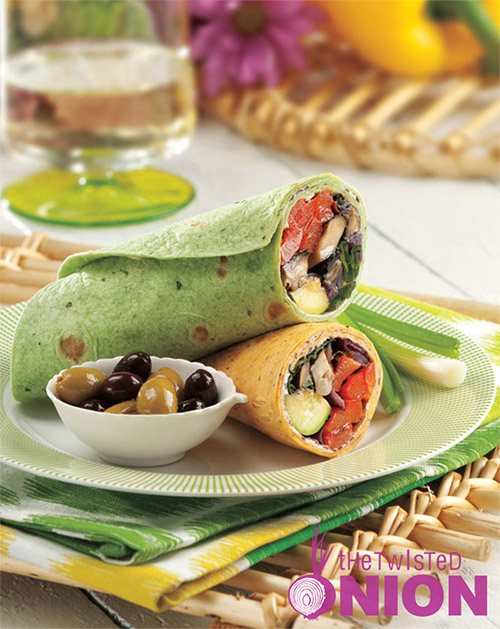 Grilled Vegetable Wraps
Prep: 30 minutes • Grill: 7 minutes • Serves: 4
2
garlic cloves, minced
2
tablespoons olive oil
1-1/2
tablespoons fresh lemon juice
1/8
teaspoon salt
1/8
teaspoon ground black pepper
1
small red onion, cut crosswise into 1/4-inch-thick slices
1
medium zucchini, cut lengthwise into quarters
1
portabella mushroom, stem removed if necessary
1
red or yellow bell pepper, cut lengthwise in half and seeds removed
4
ounces Neufchâtel cheese, softened
3
ounces pitted kalamata olives, drained and finely chopped (about 1/2 cup)
4
flavored wraps or large flour tortillas
1
package (2/3 ounce) fresh basil, leaves removed
1. Prepare outdoor grill for direct grilling over medium-high heat. In large bowl, whisk together garlic, oil, lemon juice, salt and black pepper.

2. Place vegetables on hot grill rack and cook 7 to 10 minutes or until tender, turning vegetables once halfway through cooking and brushing with garlic mixture. Transfer vegetables to cutting board.

3. Meanwhile, in small bowl, combine Neufchâtel cheese and olives. Spread each wrap with about 3 tablespoons cheese mixture.

4. Cut mushroom and bell pepper into 1/4-inch-thick slices; separate onion into rings. Arrange 1/4 of the vegetables and basil leaves over cheese mixture on bottom third of each wrap. Starting from bottom of each wrap, tightly roll wrap around filling. Cut each wrap diagonally in half to serve.


Approximate nutritional values per serving: 441 Calories, 24g Fat (7g Saturated), 20mg Cholesterol, 1041mg Sodium, 47g Carbohydrates, 4g Fiber, 10g Protein

Chef Tip
Wraps can be prepared and refrigerated up to 4 hours in advance. To serve wraps as an appetizer, cut crosswise into 1-inch-thick rounds.