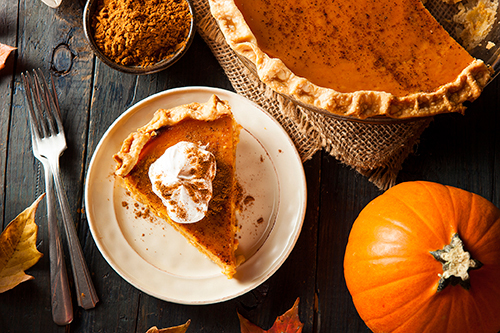 Mom's Pumpkin Pie
Prep: 15 minutes plus cooling/chilling Bake: 50 minutes Serves: 8
2
large eggs
1-1/4
cups solid pack pumpkin
1/2
cup packed light brown sugar
1/4
teaspoon salt
1
teaspoon ground cinnamon
1/4
teaspoon ground ginger
1/4
teaspoon ground nutmeg
1/8
teaspoon ground cloves
1-1/4
cups vanilla bean ice cream, softened
1
9-inch ready-to-bake frozen pie crust
heavy whipping cream, whipped (optional)
1.Preheat oven to 425°F. In large bowl, with whisk, beat eggs; stir in pumpkin, brown sugar, salt and spices.

2.Add softened ice cream and stir until smooth. Place pie crust on rimmed baking pan for easier handling; pour filling into pie shell.

3.Bake pie, on rimmed baking pan, for 15 minutes. Reduce temperature to 350°F; bake pie 35 minutes longer or until knife inserted 1-inch from side of pie comes out clean. Center of pie will still look wet. Remove pie from oven; cool completely on wire rack. Refrigerate pie at least 2 hours before serving. Serve with whipped cream, if desired.


Approximate nutritional values per serving:
About 209 calories, 10 g total fat (3 g saturated), 62 mg cholesterol, 252 mg sodium, 27 g carbohydrates, 2 g fiber, 4 g protein.