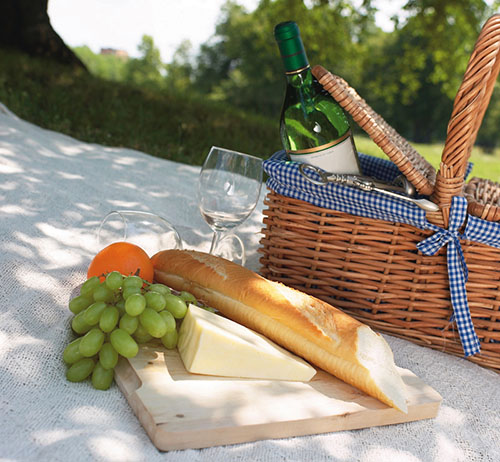 Today is International Picnic Day, and there's really only one way to celebrate, and that's to enjoy a meal al fresco.  Here are a few tips to make sure you're ready with a properly packed picnic basket.
Plan ahead to make sure foods and beverages are kept at the appropriate temperatures and use insulated containers where necessary.
Keep it simple with casual food that require minimal utensils, and pack with light, resealable and stackable containers. Think fruit, sandwiches, pastries and other finger-friendly food.
Don't forget about cleaning up with convenient pre-moistened towelettes or anti-bacterial gel, and also a trash bag for disposables.
Track down a sturdy box or canvas tote with handles if you don't have a picnic basket for your mobile meal.
Consider how long you'll be out, since foods can go bad. Just remember the two-hour rule…prepared food shouldn't be left unrefrigerated for more than two hours (one if it's hotter than 90°).
With just a bit of planning, a big blanket, and perhaps some wine (if you're of legal imbibing age, of course), you'll be ready for a lovely outdoor meal. Happy International Picnic Day!