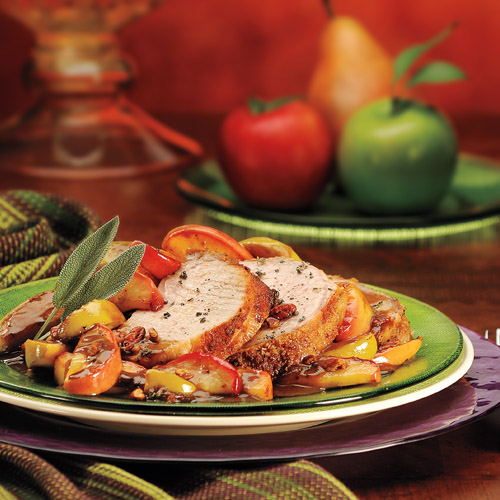 Roast Pork Loin with Glazed Apples, Sage & Pecans
Prep: 30 minutes • Roast: 1 hour 30 minutes • Serves: 8
1-1/2
teaspoons salt
1
teaspoon garlic powder
1
teaspoon ground black pepper
1
(5-pound) boneless, center-cut pork loin
2
cans (14 ounces each) less-sodium chicken broth
1
cup pecan pieces
3
medium Granny Smith apples, sliced
2
tablespoons unsalted butter
1/3
cup light brown sugar
2
teaspoons chopped fresh sage leaves
2
tablespoons cold water
2
tablespoons cornstarch
1. Place 13 x 9-inch metal baking pan in oven. Preheat oven to 400°. In small bowl, combine salt, garlic powder and pepper; rub mixture over pork. Place pork in preheated pan and roast 45 minutes or until outside is browned.

2. Reduce temperature to 325°. Add broth to pan; cover and roast 45 minutes longer or until internal temperature reaches 135°. Transfer pork to cutting board and let stand 15 minutes before slicing (internal temperature will rise to 145° upon standing). Reserve pork drippings remaining in pan.

3. Meanwhile, in large nonstick skillet, toast pecans over medium-high heat 8 to10 minutes or until lightly browned, stirring occasionally; transfer pecans to plate. Heat same skillet over medium-high heat. Add apples and butter, and cook 7 to 8 minutes or until apples are lightly browned. Add brown sugar, sage and reserved pork drippings; heat to boiling over high heat.

4. In cup, combine water and cornstarch; whisk into apple mixture and heat to boiling over high heat. Boil 1 minute; remove skillet from heat. To serve, slice pork and spoon apples and sauce over pork; sprinkle with pecans.


Approximate nutritional values per serving: 440 Calories, 22g Fat (6g Saturated), 110mg Cholesterol, 727mg Sodium, 17g Carbohydrates, 2g Fiber, 43g Protein

Chef Tip
Fuji or McIntosh apples may be substituted for Granny Smith apples. Almonds or walnuts may be substituted for pecans.