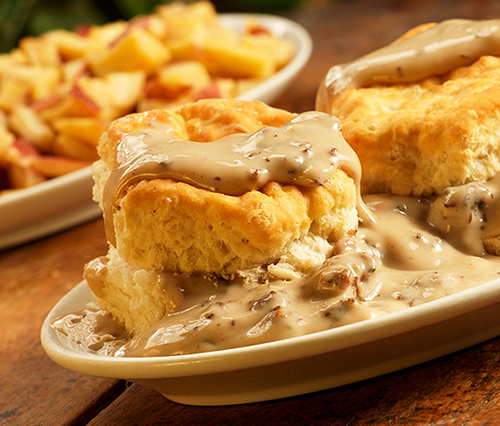 Sausage Gravy & Biscuits
Prep: 12 minutes • Cook: 18 minutes • Serves: 8
1
package (16.3 ounces) refrigerated buttermilk or Southern style biscuits
1
package (16 ounces) ground pork sausage (any flavor)
1/2
medium onion, chopped)
4
tablespoons unsalted butter
3
cups all-purpose flour
1/4
teaspoon salt
1/4
teaspoon ground black pepper
3
cups whole milk
2
teaspoons Worcestershire sauce
1. Prepare biscuits as label directs.

2. Meanwhile, in large skillet, cook sausage and onion over medium-high heat 8 to 10 minutes or until browned and cooked through, breaking up sausage with side of spoon; remove from heat. With slotted spoon, transfer sausage mixture to bowl.

3. Reduce heat to medium-low. In same skillet, melt butter. Add flour, salt and pepper and cook 5 minutes, stirring frequently; reduce heat to medium. Whisk in milk and Worcestershire. Heat to simmering and cook 5 minutes or until mixture thickens, stirring frequently. Stir in sausage mixture.

4. To serve, split biscuits in half and top with sausage gravy.


Approximate nutritional values per serving: 490 Calories, 32g Fat (13g Saturated),
58mg Cholesterol, 1124mg Sodium, 34g Carbohydrates, 1g Fiber, 18g Protein