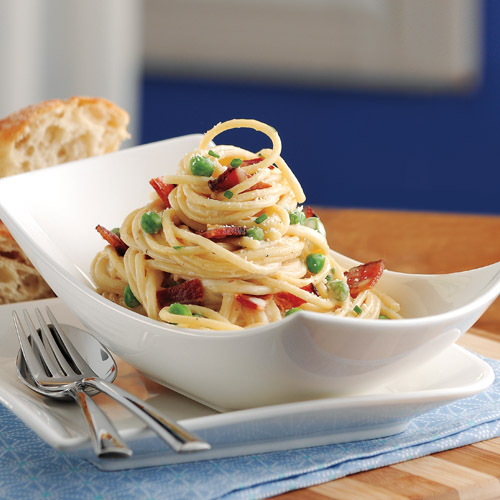 Spaghetti Carbonara
Prep: 10 minutes • Cook: 20 minutes • Serves: 8
1
package (16 ounces) spaghetti, linguine or fettuccine
2
tablespoons thinly sliced fresh chives (optional)
12
slices smoked bacon (about 3/4 pound), cut crosswise into 1/4-inch pieces
3
garlic cloves, finely chopped
1
pint (2 cups) heavy cream
1
cup grated Parmesan cheese plus additional for serving
1-1/2
cups frozen green peas
1
teaspoon salt
1
teaspoon ground black pepper
2
large eggs
1. Heat large covered saucepot of salted water to boiling over high heat. Add spaghetti and cook as label directs; drain pasta, then return to saucepot.

2. Meanwhile, in small bowl, lightly whisk eggs with chives, if using. Heat large skillet over medium-high heat. Add bacon and cook 6 minutes or until crisp, stirring frequently. Remove skillet from heat; carefully drain off fat. Add garlic and cook over medium-high heat 30 seconds, stirring. Add cream and cook until mixture simmers, stirring to loosen any browned bits on bottom of skillet. Add cheese and cook 2 minutes, stirring until cheese melts. Stir in frozen peas, salt and pepper; heat just until mixture begins to simmer. Remove skillet from heat.

3. Slowly stir eggs into skillet. Pour sauce over spaghetti. With tongs, toss spaghetti with sauce until well combined. Sprinkle with cheese to serve.


Approximate nutritional values per serving: 557 Calories, 32g Fat (18g Saturated), 151mg Cholesterol, 679mg Sodium, 49g Carbohydrates, 3g Fiber, 19g Protein