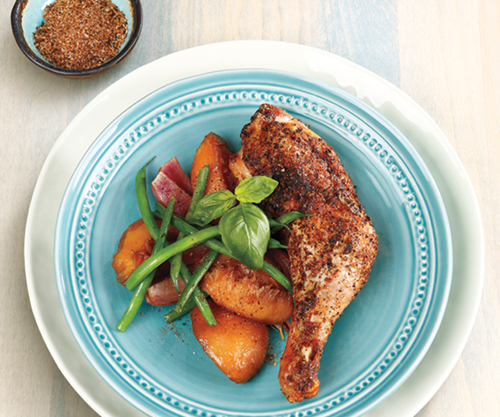 Spiced Lemon-Ginger Tea Rub
Prep: 10 minutes • Makes: about 1 cup
1/2
cup lemon-ginger tea (from about 18 tea bags)
3
tablespoons granulated sugar
1
tablespoon finely chopped fresh basil leaves
1
tablespoon kosher salt
2
teaspoons ground black pepper
1-1/2
teaspoons garlic powder
1-1/2
teaspoons ground allspice
1-1/2
teaspoons ground cinnamon
1-1/2
teaspoons onion powder
1
teaspoon ancho chili powder
1. In small bowl, stir all ingredients until well combined. Cover and store at room temperature up to 1 week.


Approximate nutritional values per serving (2 teaspoons): 17 Calories, 0g Fat (0g Saturated), 0mg Cholesterol, 475mg Sodium, 4g Carbohydrates, 0g Fiber, 0g Protein

Chef Tip
Rub on chicken, pork or duck before grilling or roasting.