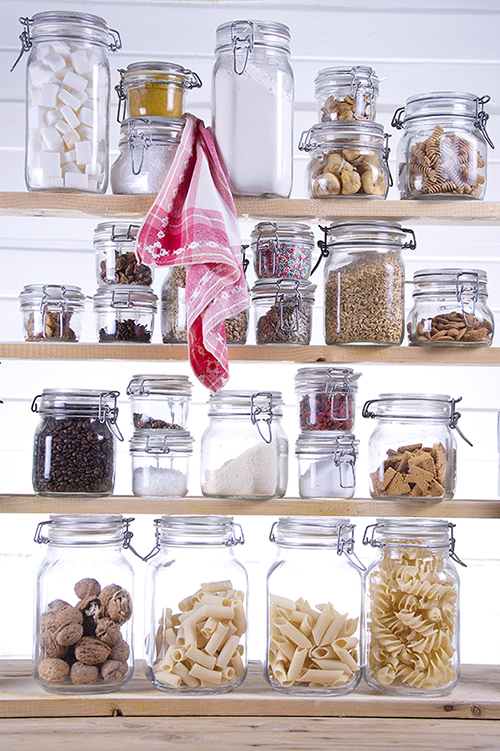 Stocking a Healthy Pantry
There's never an excuse to let healthy eating in the workplace or at home be reduced to carry-out and microwave entrées. With a well-stocked pantry, you can be inspired to prepare healthy and scrumptious meals that will benefit the whole family.
Save Time and Money
Most of us know that eating out leaves wallets slim and waistlines growing. But unfortunately, finding the time to plan, grocery shop, and prepare meals Monday through Friday can be a real challenge, particularly when you're trying to stick to a budget.
Start by keeping fresh fruits and veggies in your crisper and stocking your freezer with extra batches of homemade soups, lean proteins and frozen produce. Next, move over to the dry pantry where a nourishing and healthy meal that doesn't sacrifice on nutrition or convenience is just a shelf away.
Stay Healthy
As research extols the health benefits of a plant-based diet, beans and legumes are gaining in the nutrition limelight as budget-friendly and protein-packed vegetarian meal options. From canned to dry and from garbanzo to black, their versatility can be used to make practically any dish heartier, more nutritious and more economical.
Stock your pantry with an array of low sodium and no sugar added tomato products like crushed and stewed tomatoes and tomato paste to reduce your risk of cancer and enhance Tuesday's rigatoni or meatloaf.
In addition, bump up the nutrition factor of your pantry shelf by switching from white breadcrumbs to whole wheat. And maintain a diverse spice and herb rack, both of which have powerful disease fighting and health-promoting properties, to liven up your favorite comfort foods.
Be Prepared
Unexpected houseguests don't need to send you into a nervous frenzy. Rather than doubling your takeout order of Pad Thai and sticky rice, be prepared by lining your pantry with the right assortment of items like jars of cured olives, marinated artichoke hearts, imported oil-packed tuna, roasted red peppers and an assortment of crackers for easy and effortless entertaining. Slice some fresh fruit and a few wedges of cheese, uncork a bottle of wine, and you have an impressive and appetizing antipasto platter in minutes that will delight your guests.
Stay Organized
The key to creating a quick, healthy and delicious supper is keeping your pantry organized. Take some time to refresh your pantry by tossing out unhealthy or expired items. Replace them with nutritious go-to items that make it easier to prepare a healthy meal in less time (and money) than it takes to have a pizza delivered to the front door. Arrange items in shallow rows so that they are easily visible. Also, store food in marked or clear airtight containers, group similar items together, and make sure your pantry is ventilated and receives low light and low humidity.
Healthy Pantry Essentials
Beans and Legumes – Beans (black, cannellini, garbanzo and pinto), green split peas, and lentils (brown, red and yellow)
Beverages – Cocoa powder, bagged or loose teas (black, green and herbal), and wine
Canned Items – Broth (beef, chicken and vegetable), coconut milk, pumpkin puree, tomato products (crushed, diced, paste, sauce and whole), tuna and wild salmon
Dried Produce – Dried fruits (apples, apricots, blueberries, cherries, cranberries and raisins), dried vegetables (porcini mushrooms, sun-dried tomatoes and chiles), and shelf-stable veggies (potatoes, onions, garlic and winter squashes)
Flours and Sweeteners – Agave nectar, flour (whole wheat and spelt), honey, maple syrup, molasses, and sugar (turbinado and granulated white)
Grains – Rice (Arborio, brown and basmati), barley, couscous, millet, quinoa, soba noodles and whole wheat pasta
Herbs and Spices – Allspice, anise, basil, bay leaves, black pepper, cinnamon, cloves, coriander, cumin, curry powder, ginger, nutmeg, oregano, paprika, red pepper flakes, rosemary, thyme and turmeric
Nuts, Nut Butters and Seeds – Almonds, flaxseeds, pine nuts, sunflower seeds, walnuts and nut butters (all-natural almond and peanut)
Oils and Vinegars – Oils (canola, dark sesame, olive and vegetable) and vinegars (balsamic, fruit-flavored, red or white wine, and rice)
Sauces and Spreads – Applesauce (no sugar added), fruit preserves (low sugar, all-natural), soy sauce (low sodium), pesto and teriyaki sauce