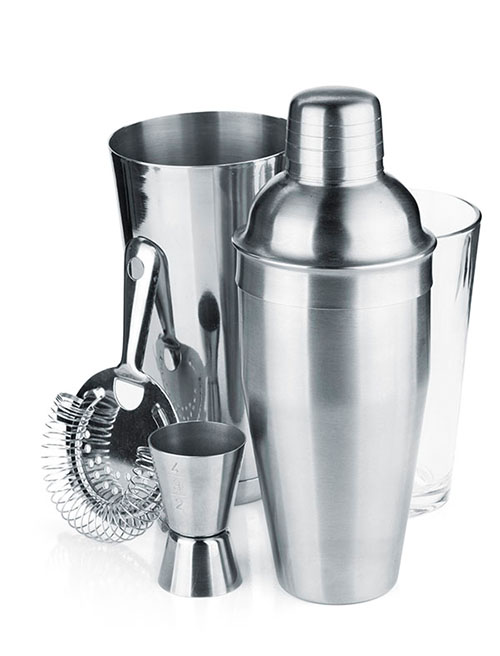 We give a lot of credit to Mad Men for resurrecting the appreciation for a stiff, well-crafted cocktail, and with the highly-anticipated return of the series on March 25, here are a few considerations for stocking a home bar. This way, you'll be ready with a strong drink in hand for the duration of the two-hour premiere.
Many experts will suggest stocking versatile variations of essential liquors – vodka, gin, bourbon and the like. This is a sound approach if you truly enjoy each of these spirits equally, or if you plan on hosting a shindig where you'll need to cater to varied tastes. However, your home bar exists first and foremost for the homeowner… you. Your bar stock should reflect your drink preferences and intentions. Consider the types of drinks you'll likely be enjoying most – this should be the cornerstone of your stocking plan.
Take a good look at your bar space and budget. Most of us don't have an expansive space to stock dozens of bottles, so selecting the right ones to keep on hand can be tricky. Much like stocking a refrigerator, thought should be given to planning out which spirits deserve a place in your limited space. And even if you're buying mid to bottom shelf spirits, the cost of cocktail essentials will add up quickly. Proper planning can at least help set the expectation in terms of wallet damage.
Once you've figured out your primary cocktail selections, it's time to think about complementing liqueurs. The variety and price of these additional ingredients run the gamut, so versatility is key. And choices like dry vermouth and bitters are used in such scant amounts that they'll last you some time. This is a double-edged sword – you're getting value from extended use, but you're also taking up precious shelf space.
Don't forget the need for a few basic bar tools: a jigger for proper measurements, a shaker and mixing glass for shaking and stirring, a Hawthorne strainer, a long-handled bar spoon, and a thick, sturdy muddler for maximum crushing power. Many stores offer these essentials in budget-friendly sets, but if you're serious about your cocktails, consider the purchase of durable and versatile bar tools an investment that will hopefully pay off in (drink) dividends.
These are just a few general thoughts for a beginner's home bar. Explore a few local cocktail bars like The Sugar House or Alley Bar and try a few new cocktails for inspiration. Just make sure you get your ducks in a row before the show starts!