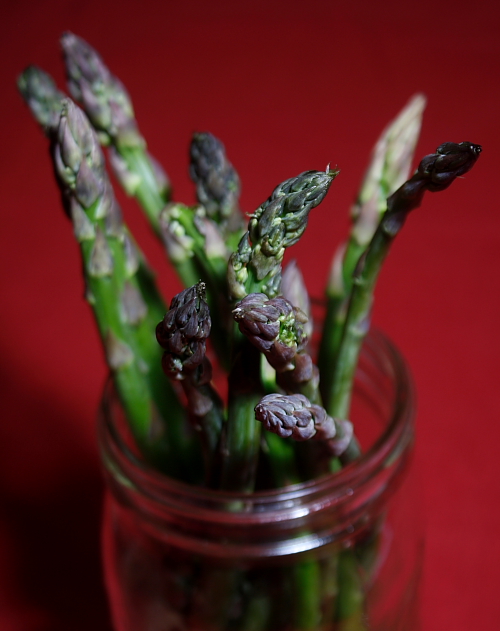 It's always an exciting time of year for cooks when Michigan asparagus comes in after so many months without local fresh vegetables. Asparagus is a favorite simply steamed or grilled as a side to meat or fish, but towards the end of the season when we've eaten it multiple times a week, we start to look for new ways to cook it so we don't get bored.
If you want to keep things simple (or if the weather is not good for grilling), roast asparagus in a hot oven. Wash and trim the asparagus, coat it lightly with olive oil and a little salt, and roast it on a baking sheet or in a 13 x 9-inch baking dish at 450° until they are done to your liking (cook times will vary depending on the thickness of the asparagus; typically 8 to 15 minutes). Pull them sooner if you prefer an al dente texture; if left longer, the vegetable will caramelize and the tips become deliciously crisp. Shake the pan halfway through cooking to rotate the spears. For a fancier dish, allow asparagus to cool slightly, and wrap in very thin slices of ham or prosciutto. Run under the broiler for a couple minutes to crisp the prosciutto.
In addition to ham, it's well known that asparagus has an affinity with eggs – it finds its way into many a quiche and omelet, and people often pair it with egg-based Hollandaise sauce or aioli/mayonnaise. But another delicious, less common pairing is asparagus with shellfish, such as shrimp or scallops. They both have a slight sweetness that complements the other, like in this scallop and asparagus stir fry, or this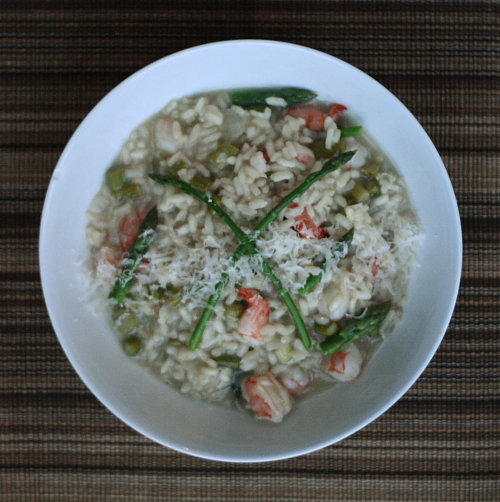 shrimp and asparagus risotto. We even had a dish in a Spanish restaurant recently that was a simple scramble of asparagus, ham and eggs, topped with grilled shrimp… a fabulous combination that takes just minutes to prepare!
If you don't want to cook your asparagus at all, you don't have to –with the help of a vegetable peeler, asparagus can be transformed into long, thin strips and eaten as a salad. The dressing combinations are endless, but we prefer lighter vinaigrette-style dressings, since the shaved asparagus is delicate. This recipe, which combines the shaved asparagus with pistachios, ricotta salata and a light lemon dressing, details the technique for shaving the vegetable into strips.
When shopping for asparagus, always look for three things: the tips should be tightly closed, the stalks should not have any vertical lines (indicating the vegetable has shriveled), and ideally the bottoms should have been kept moist. Use asparagus as soon as possible after purchasing; if you can't use it the same day, trim the bottoms and stand the asparagus upright in a little water in the refrigerator (a wide vase or Mason jar works well).
Although asparagus is available year-round from Mexico or South America, its flavor is incomparable when just picked, so make sure to enjoy Michigan asparagus to its fullest while the season lasts!