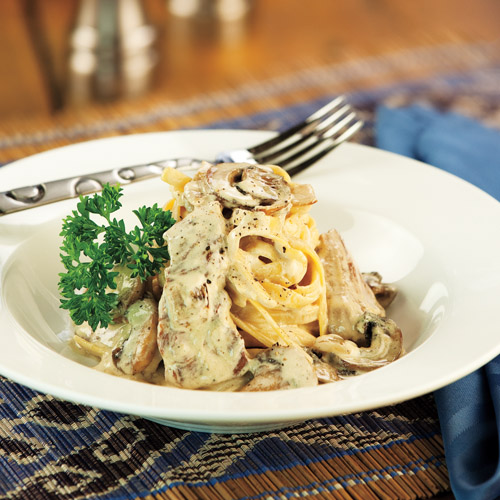 Traditional Beef Stroganoff
Prep: 15 minutes • Cook: 21 minutes • Serves: 4
1/2
(16-ounce) package fettuccine or linguine
1
tablespoon olive oil
1-1/4
pounds New York strip steak, cut crosswise into 1/4-inch-thick slices
1
small yellow onion, chopped
12
ounces sliced white mushrooms
1
cup beef broth
1
tablespoon Dijon mustard
3/4
teaspoon kosher salt
1/4
teaspoon ground black pepper
3/4
cup sour cream
1. Heat large covered saucepot of salted water to boiling over high heat. Add fettuccine and cook as label directs. Drain fettuccine, then return to saucepot.

2. In large nonstick skillet, heat oil over medium-high heat. Add beef and cook 3 minutes or until lightly browned, stirring occasionally. With slotted spoon, transfer beef to small bowl.

3. In same skillet, cook onion over medium heat 3 to 4 minutes or until onion is tender. Add mushrooms and cook 5 minutes. Reduce heat to medium-low. Stir in broth, mustard, salt, pepper and beef, and cook 8 minutes or until steak is cooked through. Stir in sour cream and cook 1 minute or until heated through. Add beef mixture to fettuccine and toss to combine.


Approximate nutritional values per serving: 697 Calories, 35g Fat (14g Saturated), 129mg Cholesterol, 667mg Sodium, 52g Carbohydrates, 3g Fiber, 43g Protein