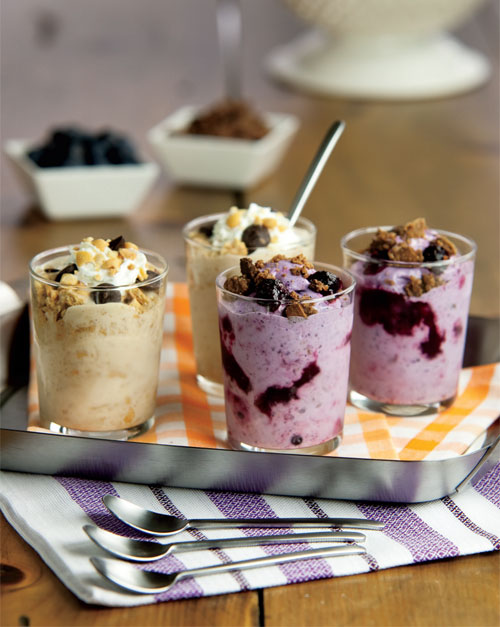 Twisted Onion's Tempting Flurries
Peanut Butter & Banana Pie Flurry
Prep: 10 minutes • Makes: about 5 cups
2
medium ripe bananas, sliced (about 1-1/3 cups)
2/3
cup chunky peanut butter
1/3
cup low fat milk
1/4
cup honey
1/2
teaspoon ground cinnamon
1
pint frozen vanilla yogurt or ice cream
2/3
cup crushed graham crackers (about 3 whole crackers)
1/2
cup whipped cream
1/4
cup chocolate chips
1/4
up chopped peanuts
In blender, pulse bananas, peanut butter, milk, honey and cinnamon until smooth. Add frozen yogurt and pulse until smooth; fold in graham crackers. To serve, spoon banana mixture into glasses, and top with whipped cream, chocolate chips and peanuts.

Approximate nutritional values per serving (2/3 cup): 333 Calories, 19g Fat (6g Saturated), 1mg Cholesterol, 160mg Sodium, 38g Carbohydrates, 3g Fiber, 9g Protein

Blueberry Crumble Pie Flurry
Makes: about 4 cups
1/4
cup packed plus 1 tablespoon light brown sugar
2
tablespoons all-purpose flour
2
tablespoons butter, diced
1/2
teaspoon ground cinnamon
1/3
cup crushed ginger snaps
2
tablespoons fresh lemon juice
1-1/2
tablespoons cornstarch
12
ounces fresh blueberries (about 2 1/4 cups)
1
pint vanilla ice cream
1/3
cup low fat milk
1. Preheat oven to 350°; line rimmed baking pan with parchment paper or nonstick foil. In medium bowl, with hands, mix 1 tablespoon brown sugar, flour, butter and 1/4 teaspoon cinnamon just until combined. Add ginger snaps and mix until combined. Spread ginger snap mixture in single layer on prepared baking pan. Bake 20 minutes or until lightly browned. Cool in baking pan on wire rack 15 minutes.

2. In small saucepot, whisk together lemon juice, cornstarch and remaining 1/4 cup brown sugar and 1/4 teaspoon cinnamon. Add blueberries and cook over medium heat 5 to 6 minutes or until blueberries start to break open and mixture thickens, stirring occasionally. Transfer blueberry mixture to medium bowl and refrigerate 20 minutes.

3. In blender, pulse ice cream, milk and 1 cup blueberry mixture, then blend until smooth. Fold in 1/3 cup ginger snap mixture and remaining blueberry mixture. To serve, spoon blueberry mixture into glasses and sprinkle with remaining ginger snap mixture.


Approximate nutritional values per serving (2/3 cup): 147 Calories, 5g Fat (3g Saturated), 11mg Cholesterol, 97mg Sodium, 26g Carbohydrates, 2g Fiber, 2g Protein