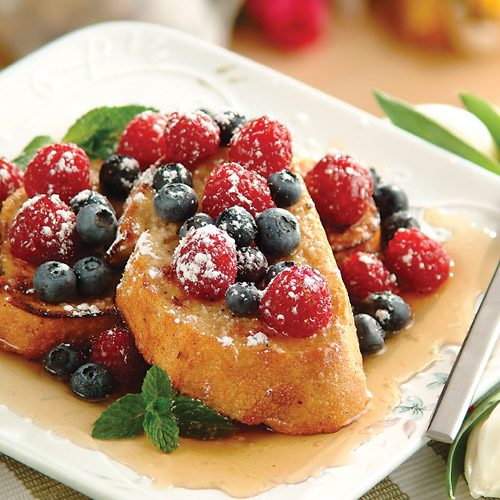 Artisan Berry French Toast
Prep: 20 minutes • Bake: 15 minutes • Serves: 8
5
large eggs
1
large egg white
1-1/4
cups buttermilk
1-1/2
tablespoons vanilla extract
2
teaspoons granulated sugar
2
teaspoons ground cinnamon
1/2
teaspoon ground nutmeg
1/4
teaspoon salt
Nonstick cooking spray
1
loaf (16 ounces) large French bread, cut diagonally into 16 slices
1
package (6 ounces) fresh raspberries
1
package (4.4 ounces) fresh blueberries
1/2
cup pure maple syrup
Powdered sugar and mint sprigs for garnish (optional)
1. Preheat oven to 450°. In shallow bowl, whisk together eggs, egg white, buttermilk, vanilla extract, sugar, cinnamon, nutmeg and salt.

2. Spray 2 rimmed baking pans very well with nonstick cooking spray. Briefly soak both sides of bread in egg mixture, then place in single layer on prepared pans.

3. Bake 10 minutes or until bread is golden on bottom. With wide spatula, flip bread and rotate baking pans between upper and lower oven racks. Bake 5 minutes longer or until bottoms are browned.

4. To serve, transfer French toast to individual serving plates; top with raspberries and blueberries. Drizzle with maple syrup. Sprinkle French toast lightly with powdered sugar and garnish with sprigs of mint, if desired.


Approximate nutritional values per serving: 303 Calories, 5g Fat (2g Saturated), 134mg Cholesterol, 506mg Sodium, 52g Carbohydrates, 4g Fiber,11g Protein

Chef Tip
Healthy Substitute: Use 1-1/3 cups liquid egg substitute instead of whole eggs and egg white: save 29 Calories, 3g Fat (1g Saturated) and 133mg Cholesterol