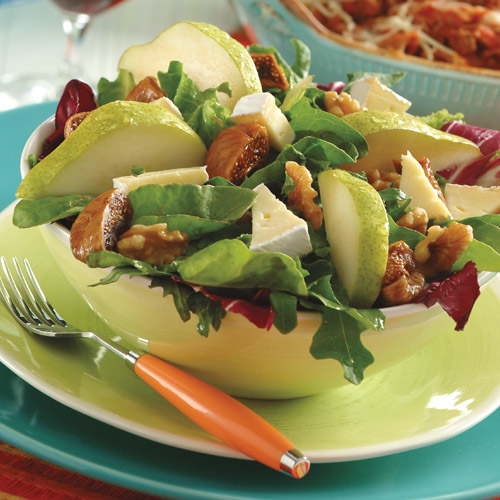 Autumn Salad with Pomegranate Vinaigrette
Prep: 15 minutes • Serves: 8
Pomegranate Vinaigrette
1/2
cup extra virgin olive oil
2-1/2
tablespoons red wine vinegar
2
tablespoons pomegranate juice
1/2
tablespoon balsamic vinegar
1-1/2
teaspoons honey
1/2
teaspoon Dijon mustard
2
teaspoons minced shallots
Kosher salt and ground black pepper, to taste
Autumn Salad
2
bags (5 ounces each) spring mix salad greens
6
ounces Brie, cut into small wedges
2
medium Bartlett pears, cored and cut into wedges
1-1/2
cups dry figs, stems removed and halved
1
cup toasted shelled walnuts
1. Prepare Pomegranate Vinaigrette: In medium bowl, whisk together oil, vinegars, juice, honey and mustard. Stir in shallots and season with salt and pepper.

2. Prepare Autumn Salad: In large bowl, toss greens with 1/2 cup vinaigrette (reserve remaining vinaigrette for another use).

3. Place greens mixture on large serving platter. Arrange remaining ingredients over top of greens.


Approximate nutritional values per serving: 351 Calories, 22g Fat (4g Saturated), 15mg Cholesterol, 177mg Sodium, 32g Carbohydrates, 7g Fiber, 9g Protein