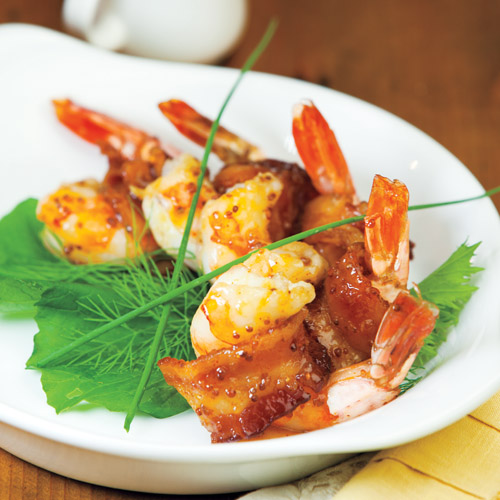 Bacon-Wrapped Shrimp with Honey Mustard Glaze
Prep: 25 minutes • Bake: 20 minutes
Serves: 12
18
slices smoked bacon (about 1-1/2 pounds), each cut crosswise in half
36
raw 16-20 count tail-on peeled and deveined shrimp, thawed if necessary (about 2 pounds)
1-1/2
cups honey
1/4
cup coarse ground mustard
1/4
cup Dijon mustard
1-1/2
teaspoons grated fresh ginger
1/4
teaspoon cayenne pepper
1. Preheat oven to 450°. Place bacon in single layer on 2 rimmed baking pans. Bake 8 to 9 minutes or until bacon is 3/4 of the way cooked through. Transfer bacon to paper towel-lined plates to drain.

2. Carefully drain all but 1 tablespoon bacon drippings from 1 baking pan; evenly spread drippings remaining in pan to coat. Wrap 1 piece of bacon around center of each shrimp and place in single layer on pan. Bake 10 to 12 minutes or until shrimp are almost cooked through and bacon is crisp; carefully drain bacon drippings from pan.

3. Meanwhile, in small saucepot, heat honey, mustards, ginger and cayenne to simmering over medium-low heat; cook 2 minutes and remove from heat.

4. Brush shrimp with honey-mustard mixture. Bake 2 to 3 minutes longer or until shrimp turn opaque throughout and internal temperature reaches 145°.

5. To serve, transfer shrimp to serving platter and pour glaze remaining in pan over shrimp.


Approximate nutritional values per serving: 242 Calories, 6g Fat (2g Saturated), 108mg Cholesterol, 398mg Sodium, 36g Carbohydrates, 1g Fiber, 14g Protein