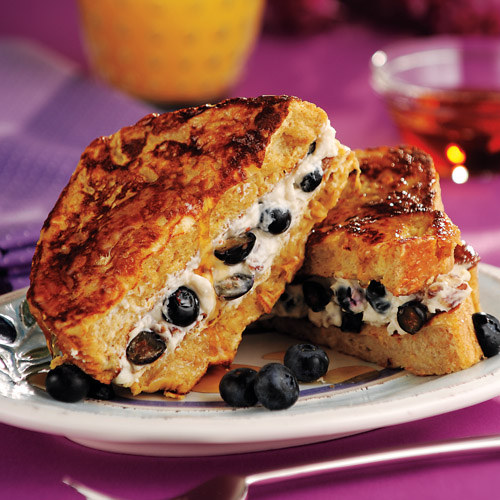 Blueberry Stuffed French Toast
Prep: 15 minutes • Cook: 6 minutes • Serves: 4
6
ounces Neufchâtel cheese, softened
2
tablespoons toasted chopped pecans
1-1/2
tablespoons light brown sugar
1/2
teaspoon fresh lemon juice
1/4
teaspoon lemon zest
1-1/4
cups egg substitute
3/4
cup low fat milk
1
teaspoon vanilla extract
1/2
teaspoon ground cinnamon
1/8
teaspoon ground ginger
8
slices whole wheat bread
1/2
cup fresh blueberries
Nonstick cooking spray
3/4
cup sugar free breakfast syrup
1. In small bowl, stir together cheese, nuts, brown sugar, lemon juice and zest. In shallow bowl, whisk together egg substitute, milk, vanilla extract, cinnamon and ginger.

2. Spread 1 side of 4 slices of bread evenly with cheese mixture; sprinkle blueberries in single layer over cheese mixture. Lightly press remaining bread slices over blueberries to close.

3. Spray large skillet or flat top griddle with nonstick cooking spray. Preheat skillet over medium heat 2 minutes. Briefly soak both sides of bread sandwiches in egg mixture, then place in skillet. Cook 6 to 7 minutes or until golden brown, flipping once with large spatula.

4. To serve, cut French toast in half and drizzle with syrup.


Approximate nutritional values per serving: 366 Calories, 14g Fat (7g Saturated), 32mg Cholesterol, 707mg Sodium, 44g Carbohydrates, 5g Fiber, 18g Protein