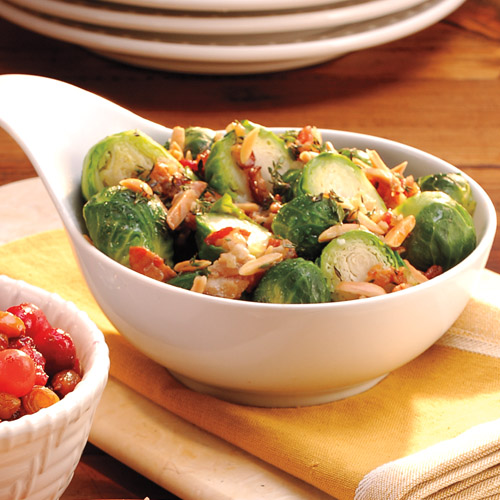 Brussels Sprouts with Bacon and Thyme
Prep: 10 minutes • Cook: 30 minutes • Serves: 6
2
pounds fresh Brussels sprouts, trimmed and each cut lengthwise in half
1
package (2.25 ounces) slivered almonds (1/2 cup)
4
slices hardwood smoked bacon, cut into 1/4-inch pieces
1
medium onion, diced (1 cup)
3
garlic cloves, minced
1
teaspoon fresh thyme leaves
1/4
cup apple cider vinegar
2
tablespoons brown sugar
1
teaspoon salt
1/2
teaspoon ground black pepper
1. Heat large covered saucepot of salted water to boiling over high heat. Add sprouts; heat to boiling. Cook sprouts 5 to 6 minutes or until tender-crisp; drain. Meanwhile, in large skillet, cook almonds over medium heat 5 to 6 minutes or until golden brown, stirring frequently; transfer almonds to plate.

2. In same skillet, cook bacon over medium heat 5 minutes, stirring occasionally. Add onion and cook 4 to 5 minutes or until tender, stirring frequently. Stir in garlic and thyme, and cook 1 minute. Stir in vinegar, brown sugar, salt and pepper; heat until mixture simmers. Stir in sprouts; heat through. Transfer sprouts to serving bowl; sprinkle with almonds.


Approximate nutritional values per serving: 179 Calories, 9g Fat (1g Saturated), 4mg Cholesterol, 460mg Sodium, 21g Carbohydrates, 7g Fiber, 9g Protein

Chef Tip
Brussels sprouts can be boiled 1 day ahead; drain in colander, then rinse with cold water to stop the cooking process. Drain well, then transfer to large zip-top plastic bag.