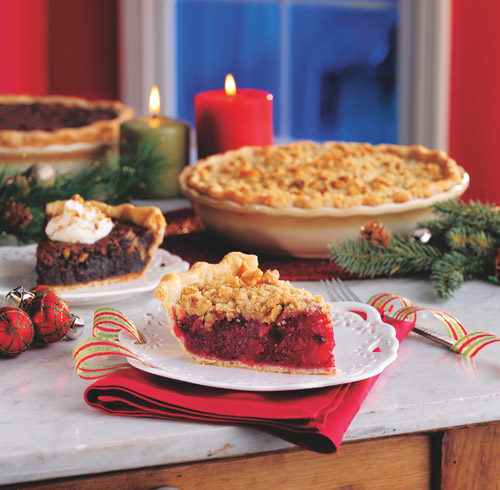 Cranberry Orange Walnut Crunch Pie
Prep: 30 minutes plus cooling and chilling • Bake: 35 minutes • Serves: 8
1/2
(15-ounce) package refrigerated pie crusts (1 pie crust)
1
bag (12 ounces) fresh cranberries (3 cups)
2
cups granulated sugar
1-1/2
cups refrigerated orange juice
2
teaspoons orange zest
1/4
teaspoon salt
1/3
cup cold water
1/3
cup cornstarch
1
cup chopped walnuts
1/2
cup unbleached all-purpose flour
1/4
cup packed light brown sugar
4
tablespoons cold unsalted butter, cut into small pieces
1. Let pie crust stand at room temperature as label directs to soften slightly. Meanwhile, in medium saucepot, heat cranberries, granulated sugar, orange juice and zest, and salt; heat to boiling over medium-high heat. Boil 8 to 10 minutes or until most cranberries burst and mixture thickens slightly, stirring occasionally. In small bowl, whisk together water and cornstarch. Gradually stir cornstarch mixture into cranberry mixture; heat to boiling. Boil 1 minute or until mixture becomes thick, stirring constantly. Remove saucepot from heat.

2. Adjust oven rack to lowest position. Line heavy rimmed baking pan with foil; place pan on lowest oven rack. Preheat oven to 375°.

3. In medium bowl, combine nuts, flour and brown sugar. With fingertips, work in butter until pea-sized crumbs form.

4. Unroll pie crust and place in 9-inch pie plate. If desired, make decorative edge. Spread cranberry filling into pie crust; sprinkle topping evenly over filling. Place pie on prepared baking pan in oven. Bake 35 to 40 minutes or until topping is golden brown. Cool pie on wire rack 1 hour, then cover and refrigerate at least 4 hours or up to overnight.


Approximate nutritional values per serving:serving: 561 Calories, 22g Fat (4g Saturated), 20mg Cholesterol, 212mg Sodium, 90g Carbohydrates, 2g Fiber, 5g Protein

Chef Tips
Pie filling and topping may be prepared up to 2 days in advance and refrigerated.
Baking pie on lowest oven rack on preheated baking pan ensures a fully baked bottom crust.
Serve pie à la mode with vanilla ice cream.