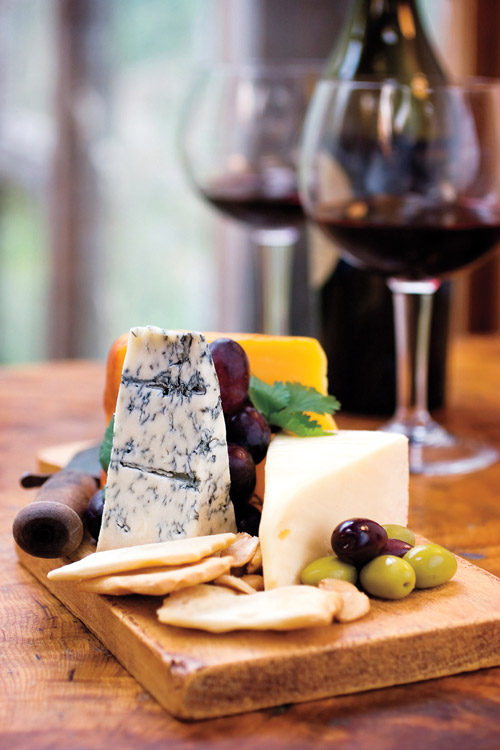 Creating the Perfect Cheeseboard
Wow your guests this holiday season with an easy-to-assemble cheeseboard. First, choose several cheeses from soft to hard with a variety of sizes, shapes and textures. Here are some suggestions of varieties to select:
fresh and soft cheeses: Brie, Camembert, chèvre, mozzarella
semi-soft cheeses: Edam, fontina, Raclette
hard cheeses: Cheddar, Gruyère, Manchego, Parmigiano-Reggiano
blue cheeses: gorgonzola, Roquefort, Stilton
A rustic cutting board works well for presenting cheese along with accompaniments like:
chunks or slices of baguette or other crusty bread
assorted crackers
fresh fruit including red grapes, apples or pears
dried fruits such as figs, dates, apples or cherries
nuts like cashews, almonds, pecans or macadamias
Finally, decorate your board to celebrate the season using natural items such as fresh herbs, chestnuts or leaves. Since cheese is best served at room temperature, you can assemble the cheeses on your board in advance and refrigerate, then remove from the refrigerator 30 minutes before serving. Add any accompaniments just before serving.
In the states, cheese is typically served as an appetizer; however, it's customary in many European countries to serve cheese between the entrée and dessert. Pick up your favorite red wine to be enjoyed throughout dinner and into the cheese course. Try a bottle of sweet wine to accompany both cheese and dessert to finish off your grandiose celebration.
Looking for additional cheesy-bites for your holiday gatherings? Here are a few of our favorite quick and tasty ideas:
Sun-Dried Tomato-Chèvre Dip – Tightly pack chèvre into a small, oven-safe casserole dish. Top with chopped oil-packed sun-dried tomatoes, then sprinkle with panko breadcrumbs and drizzle with a little olive oil. Bake at 350° for 8 to 10 minutes or until the top is lightly browned. Spread over toasted slices of baguette or crackers.
Antipasti Skewers – On 6-inch wooden skewers, alternate 1-inch chunks of fresh mozzarella cheese (or use bocconcini – small fresh mozzarella balls), pitted kalamata olives, grape or sun-dried tomatoes and marinated artichoke wedges. Place skewers on a serving platter, drizzle with extra virgin olive oil, balsamic vinegar and chopped fresh basil.
Parmesan Crisps – Combine 1 cup shredded Parmigiano-Reggiano cheese with 1 tablespoon all-purpose flour and ¼ teaspoon black pepper. Drop tablespoonful mounds of cheese mixture 4 inches apart on a parchment-paper lined cookie sheet. Flatten mounds to 3-inch rounds and bake at 375° for 8 to 10 minutes or until golden. Let cool in pan on a wire rack 2 minutes, then lift cheese with a thin spatula and cool completely on wire rack. Serve crumbled in a salad or for snacking with wine.