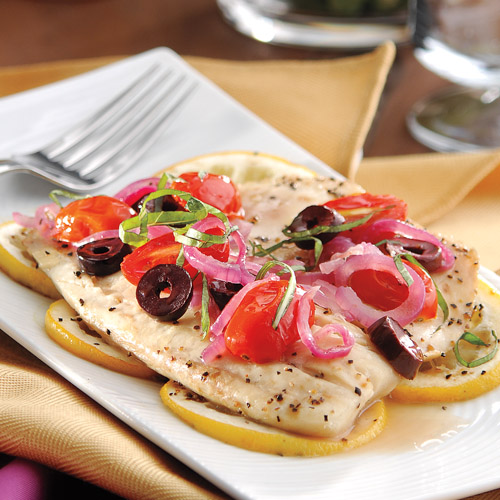 Foil-Baked Mediterranean Tilapia
Prep: 15 minutes • Bake: 14 minutes • Serves: 4
4
large lemons
2-1/2
ounces drained pitted kalamata olives, sliced (about 1/2 cup)
16
cherry or grape tomatoes, each cut in half (about 1 cup)
1
small red onion, cut in half and thinly sliced (about 1 cup)
2
tablespoons thinly sliced fresh basil leaves
1
tablespoon olive oil
4
tilapia fillets (about 1-1/2 pounds)
1/4
teaspoon salt
1/2
teaspoon ground black pepper
Sliced green onions, diced tomatoes and/or chopped fresh cilantro leaves for garnish (optional)
1. Preheat oven to 400°. Thinly slice 3 lemons. From remaining lemon, grate 2 teaspoons zest and squeeze 2 tablespoons juice. In small bowl, toss olives, tomatoes, onion, basil, oil, and lemon zest and juice until well combined. Sprinkle both sides of tilapia fillets with salt and pepper.

2. Cut four 12 x 18-inch sheets of heavy-duty aluminum foil or parchment paper. Place 1 sheet of foil on work surface. Arrange 3 to 4 lemon slices in single layer on half of foil sheet; place 1 fillet over lemon slices and top with about 2/3 cup olive mixture. Fold foil over to cover fillet and olive mixture. Fold edges several times to seal tightly. Repeat with remaining foil sheets, lemon slices, fillets and olive mixture.

3. Place foil packets on rimmed baking pan. Bake 14 minutes or until fillets turn opaque throughout and reach an internal temperature of 145°. With kitchen shears, cut an X in top of foil packets, then carefully pull back foil to open.


Approximate nutritional values per serving: 205 Calories, 5g Fat (1g Saturated), 68mg Cholesterol, 493mg Sodium, 7g Carbohydrates, 1g Fiber, 30g Protein

Chef Tip
To cut basil in thin slices, also known as chiffonade, stack the leaves and roll them from tip to stem, then cut across to form long slices.
To cut down on cleanup, serve tilapia in the foil cooking packets directly from the oven.