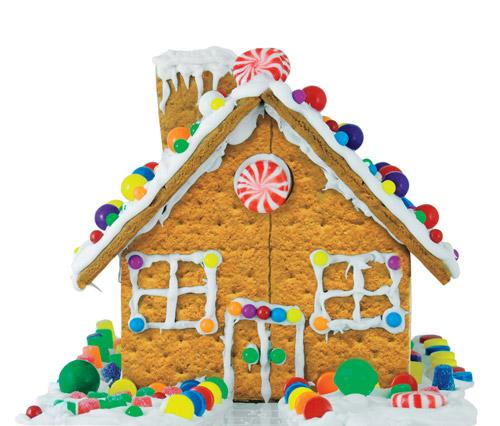 Houses come in many shapes, sizes and materials, but only one is built with frosting, cookies and candy – the gingerbread house. Experienced cooks mix together flour, brown sugar and spices, a concoction that fills the kitchen with fragrant aromas while baking, then spend hours constructing elaborately decorated houses.
While you may not have the time to bake homemade gingerbread, your family can still enjoy this holiday tradition by using graham crackers instead. Family fun is sure to be had when constructing a gingerbread house, from a small one-room house to an apartment building, or even a castle complete with towers.
White frosting helps provide a snow-covered look. Add food coloring to some of the frosting to fashion pretty windows and a door. The frosting also holds the house together but because it contains raw egg whites, remember not to eat it. A plate of graham crackers and some cold milk make a perfect snack while your family draws up blueprints.
Decorate the house however you choose. Use the frosting for trim and to "glue" on small hearts or wreaths. Make other decorations from gum drops, bits of licorice, jelly beans, foil-wrapped chocolates, bite-size cookies, miniature marshmallows, or peppermint candies.
You may want to build a path made of sugar cubes leading to your graham cracker house. Or, the artist in the family could draw a path and even a yard as a placemat for the house. Set up small toys like plastic trees around the yard. If you have a dog, consider constructing a smaller version as a doghouse. The possibilities are endless… just use your imagination!
The value of time spent together on a holiday project is anything but miniature. Building a graham cracker house also fosters creativity, and everyone on the construction crew can contribute fun ideas for creating a holiday masterpiece.
Gingerbread House Icing
Prep: 5 minutes      •      Makes: 2½ cups
1 pound powdered sugar
3 large egg whites
1  teaspoon cream of tartar
1 to 2  teaspoons water
1. In large bowl, with mixer on medium speed, beat all ingredients, except water, 5 minutes or until mixture is very stiff. If icing becomes too stiff, stir water into icing a little at a time. Cover tightly until ready to use.
2. Transfer icing to pastry bag with star tip, and use to create the gingerbread house with graham crackers.
Chef Tip: Icing dries out and becomes hard very quickly. While working with icing, keep it covered with a wet towel or plastic wrap to prevent drying.