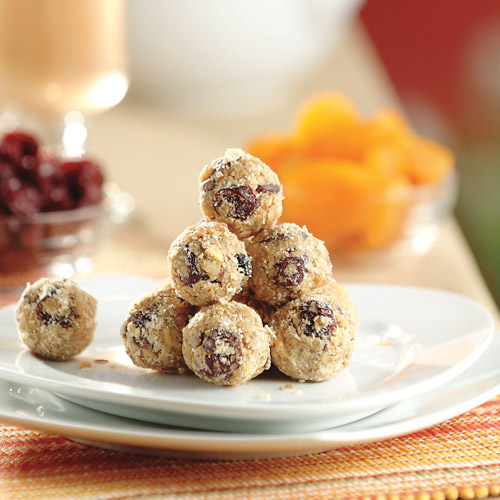 Granola Bites
Prep: 25 minutes plus chilling • Makes: 36 bites
2
tablespoons sliced almonds
Nonstick cooking spray
1-3/4
cups quick oats
2/3
cup finely chopped dried apples and/or apricots
1/3
cup dried blueberries, cherries and/or cranberries
2
tablespoons roasted, salted sunflower seeds
2
tablespoons coconut flakes
1/2
teaspoon ground cinnamon
1/2
cup peanut or soynut butter
1/4
cup honey
1/2
teaspoon vanilla or almond extract
1. In small skillet, toast almonds over medium heat 4 to 5 minutes or until lightly browned, stirring frequently.

2. Spray cookie sheet with nonstick cooking spray. In bowl of food processor with knife blade attached, process 1/4 cup oats and almonds 15 seconds or to fine crumbs; transfer to medium bowl.

3. In large bowl, combine dried fruits, sunflower seeds, coconut, cinnamon and remaining 1-1/2 cups oats. Add peanut butter, honey and extract, and stir until well combined and mixture begins to stick together.

4. Using gloves or moist hands, form mixture into 1-inch balls, then coat lightly with almond-oat crumbs. Place on prepared cookie sheet and cover with plastic wrap. Refrigerate at least 4 hours or overnight to allow oats to absorb moisture.


Approximate nutritional values per serving (4 granola bites): 246 Calories, 11g Fat (2g Saturated), 0mg Cholesterol, 76mg Sodium, 33g Carbohydrates, 4g Fiber, 8g Protein