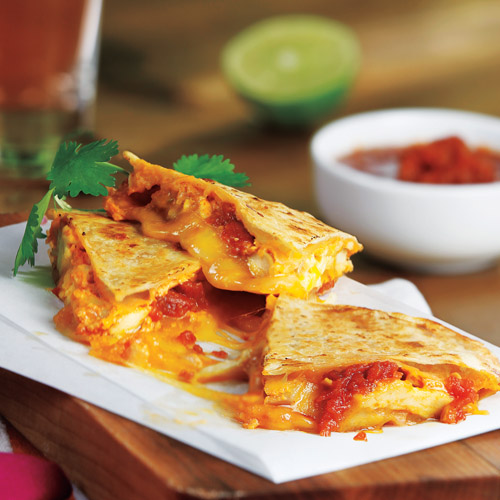 Jalapeño-Chicken Quesadillas
Prep: 25 minutes • Grill: 8 minutes • Serves: 8
Nonstick cooking spray
1-2
medium jalapeño peppers, seeds and ribs removed, minced
1/2
medium red onion, chopped (about 2/3 cup)
2-1/2
cups shredded boneless, skinless herb rotisserie chicken meat
1-3/4
cups mild or medium salsa
1-1/2
teaspoons ground cumin
2
tablespoons fresh lime juice
8
(8-inch) flour tortillas
3
cups finely shredded Mexican cheese blend
Sour cream (optional)
1. Cover grill rack with foil. Prepare outdoor grill for direct grilling over medium heat. Spray large skillet with nonstick cooking spray. Cook jalapeño and onion over medium heat 4 minutes, stirring occasionally. Add chicken, salsa and cumin, and cook 6 to 8 minutes longer or until heated through. Remove skillet from heat; stir in lime juice.

2. Spray foil-lined grill rack with nonstick cooking spray. Place 4 tortillas in single layer on foil: sprinkle each tortilla with 6 tablespoons cheese. Evenly divide chicken mixture over cheese, then top each with 6 tablespoons remaining cheese and remaining 4 tortillas. Lightly spray tops with nonstick cooking spray. Cover and cook 8 to 10 minutes or until tops are lightly browned and cheese melts, turning once halfway through cooking.

3. Cut quesadillas into wedges and serve with sour cream, if desired.


Approximate nutritional values per serving: 405 Calories, 20g Fat (9g Saturated), 70mg Cholesterol, 799mg Sodium, 34g Carbohydrates, 3g Fiber, 25g Protein