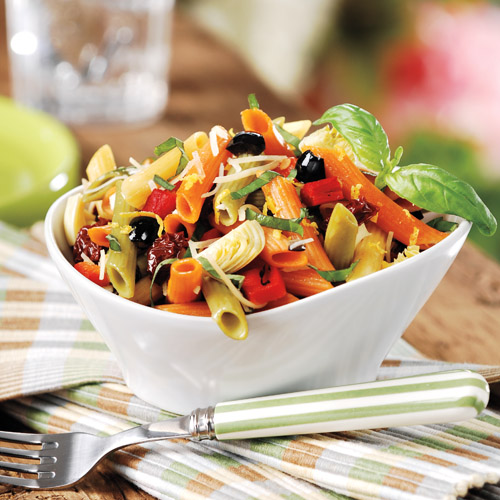 Lemon-Basil Pasta Salad
Prep: 15 minutes plus chilling • Cook: 7 minutes • Serves: 6
1
box (12 ounces) tri-color penne rigate pasta
1
can (14 ounces) quartered artichoke hearts, drained and coarsely chopped
2
garlic cloves, finely chopped
1/2
cup drained and chopped roasted red peppers
1/3
cup shredded Parmesan cheese
1/4
cup chopped fresh basil leaves plus additional for garnish
1/4
cup coarsely chopped pitted kalamata olives
3
tablespoons drained and chopped sundried tomatoes with herbs in oil (plus 2 tablespoons oil)
2
tablespoons fresh lemon juice
1
teaspoon lemon zest
1/2
teaspoon salt
1/2
teaspoon ground black pepper
1. Heat large covered saucepot of salted water to boiling over high heat. Add pasta and cook as label directs; drain. Rinse pasta under cold water and drain.

2. In large bowl, toss pasta with remaining ingredients until well blended. Cover and refrigerate at least 3 hours or up to 2 days. Serve garnished with basil.


Approximate nutritional values per serving: 315 Calories, 10g Fat (1g Saturated), 3mg Cholesterol, 600mg Sodium, 48g Carbohydrates, 5g Fiber, 11g Protein

Chef Tip
Toss in chilled cooked shrimp and serve as an entrée.