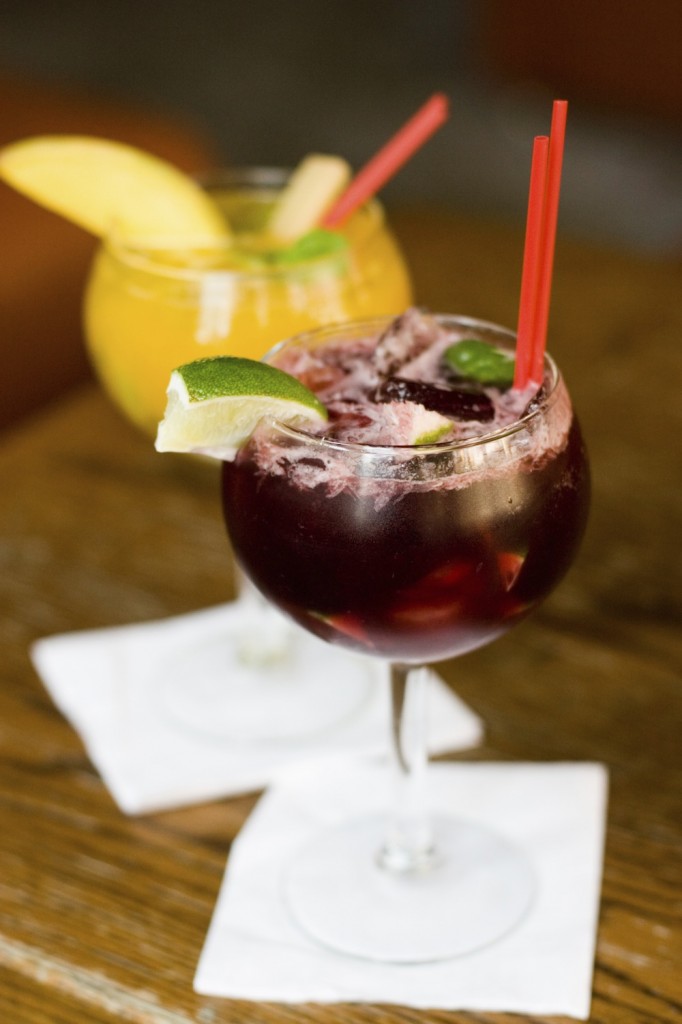 Red Lemon-Lime Sangria
10 minutes plus standing and chilling • Microwave: 1 minute Makes: about 9 cups or 12 servings
Ice
1
large lemon
1
lime
1
medium orange
1
cup granulated sugar
1
cup water
1
can (6 ounces) frozen limeade concentrate
1
bottle (1.5 liters) or 2 bottles (750 ml each) red wine (such as Rioja or Burgundy), chilled
1. Thinly slice unpeeled lemon, lime and orange. Remove any visible seeds. In medium microwave-safe bowl, combine sugar and water. Heat in microwave oven on high 1 minute. Stir until sugar dissolves. Cool to room temperature.

2. In large pitcher, stir sugar mixture, limeade and sliced fruit until well blended. Refrigerate at least 2 hours or up to overnight.

3. Pour red wine into fruit mixture. Serve sangria over ice.

Peach Sangria Blanco
Prep: 20 minutes plus standing and chilling • Makes: about 12 cups or 16 servings
3
small lemons
1
lime
1
bottle (1.5 liters) or 2 bottles (750 ml each) white wine (such as Riesling or Muscat)
1-1/2
cups peach nectar
1/2
cup orange flavored liqueur such as Triple Sec or Cointreau
1/2
cup granulated sugar
3
large peaches (1 pound), pitted and thinly sliced (about 2-1/2 cups)
1/2
medium honeydew melon, peeled and cut into 1-inch pieces (about 4 cups)
1
bottle (1 liter) ginger ale, chilled
1. Thinly slice 2 lemons. Into large pitcher, squeeze juice from lime. Add wine, nectar, liqueur and sugar; stir until sugar dissolves. Add peaches, honeydew and lemon slices.

2. Refrigerate at least 4 hours or up to overnight. To serve, transfer wine mixture to punch bowl; stir in ginger ale. Thinly slice remaining lemon and add to punch bowl for garnish.

Chef Tip
Chilling the wine thoroughly before using will help keep the ice from melting too quickly and diluting the sangria.