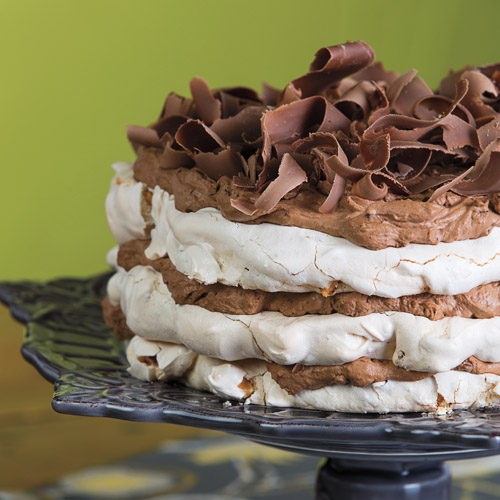 Mocha-Almond Meringue Cake
45 minutes plus cooling, freezing and standing • Bake: 2 hours 30 minutes • Serves: 12
Meringue Layers
3
packages (2.25 ounces each) slivered almonds (1-1/2 cups)
6
large egg whites, at room temperature
3/4
teaspoon fresh lemon juice
1/8
teaspoon salt
1-1/4
cups granulated sugar
Filling
1/3
cup granulated sugar
1/3
cup unsweetened cocoa powder
3
tablespoons instant espresso or coffee powder
3
cups heavy cream
6
ounces semi-sweet chocolate, finely chopped (about 1 cup)
Chocolate curls for garnish
1. Prepare Meringue Layers: Adjust 2 oven racks to top and bottom position. Preheat oven to 350°. Spread almonds in single layer on rimmed baking pan. Bake 15 to 18 minutes or until almonds are lightly toasted, stirring once halfway through baking. Transfer almonds to plate to cool completely. Once cooled, chop almonds.

2. Reduce oven temperature to 225°. Line 2 cookie sheets with parchment paper. Using an inverted 8-inch plate or cake pan, draw 2 circles on 1 parchment sheet and 1 circle on remaining parchment sheet. Turn parchment sheets drawing side down on cookie sheets.

3. In large bowl, with mixer at high speed, beat egg whites, lemon juice and salt 4 to 5 minutes or until soft peaks form. Gradually add sugar and beat until sugar dissolves and stiff peaks form. With rubber spatula, fold chopped almonds into meringue. Evenly spread 1⁄3 of the meringue (about 3 cups) inside each drawn circle on prepared cookie sheets.

4. Bake meringue layers 2 hours 30 minutes, or until crisp, rotating cookie sheets between upper and lower racks halfway through baking. Turn off oven; let meringue layers stand in oven with door ajar 1 hour or until completely cooled. Carefully remove meringue layers from parchment.

5. Meanwhile, prepare Filling: In small bowl, stir sugar, and cocoa and espresso powders until well combined. In large bowl, with mixer at medium speed, beat cream 2 to 3 minutes or until soft peaks form, occasionally scraping bowl with rubber spatula. Increase speed to high; gradually add sugar mixture and beat until stiff peaks form. With rubber spatula, fold in chopped chocolate.

6. To assemble, place 1 meringue layer on cake plate; evenly spread with 1⁄3 whipped cream mixture (about 2 cups). Repeat with remaining meringue layers and whipped cream mixture. Cover loosely with plastic wrap; freeze at least 4 hours or overnight.

7. To serve, slice frozen cake and let stand 1 hour at room temperature; sprinkle with chocolate curls.


Approximate nutritional values per serving: 486 Calories, 35g Fat (17g Saturated), 82mg Cholesterol, 76mg Sodium, 42g Carbohydrates, 3g Fiber, 7g Protein

Chef Tip
To make chocolate curls, with a vegetable peeler, shave along side of a semi-sweet chocolate bar.
Meringue layers will hold their volume better when baked in an electric oven.