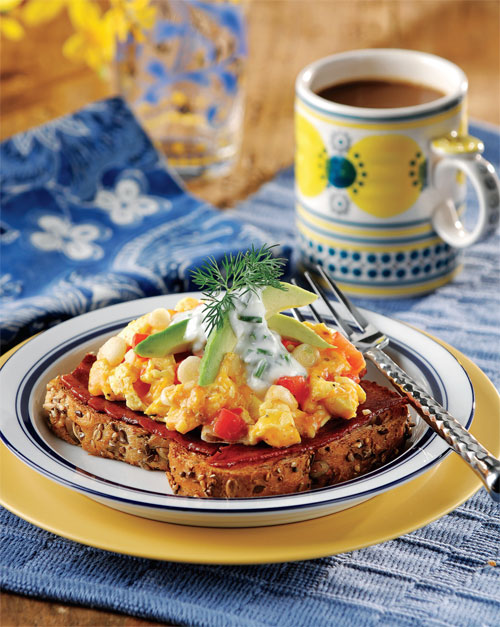 Open-Faced Breakfast Sandwiches
Prep: 20 minutes • Cook: 8 minutes • Serves: 4
1/4
cup low fat plain yogurt
2
teaspoons chopped fresh chives and/or dill
8
slices turkey bacon
Nonstick olive oil cooking spray
2
cups egg substitute
1
garlic clove, finely chopped
1
green onion, sliced (about 2 tablespoons)
1
small tomato, diced (about 1/2 cup)
1/2
cup shredded reduced fat Cheddar cheese
3/4
teaspoon Mrs. Dash® original seasoning blend
4
slices multigrain bread
Zero-calorie butter spray
1/2
medium avocado, peeled, pitted and thinly sliced
1. In small bowl, stir together yogurt and chives. In large skillet, cook bacon over medium heat 8 minutes or until crisp. Cut each slice crosswise in half.

2. Meanwhile, spray separate large skillet with nonstick cooking spray. Add egg substitute and cook over medium heat 3 minutes, stirring occasionally with heat-proof rubber spatula. Fold in garlic, onion, tomato, cheese and seasoning blend. Toast bread and lightly spray with butter spray.

3. To serve, place 1 piece of toast on each of 4 serving plates; top each with 4 half slices of bacon. Evenly spoon egg substitute mixture over bacon, and top each with 1/4 of the avocado slices and 1 tablespoon yogurt mixture.


Approximate nutritional values per serving: 311 Calories, 12g Fat (3g Saturated), 29mg Cholesterol, 701mg Sodium, 28g Carbohydrates, 5g Fiber, 26g Protein