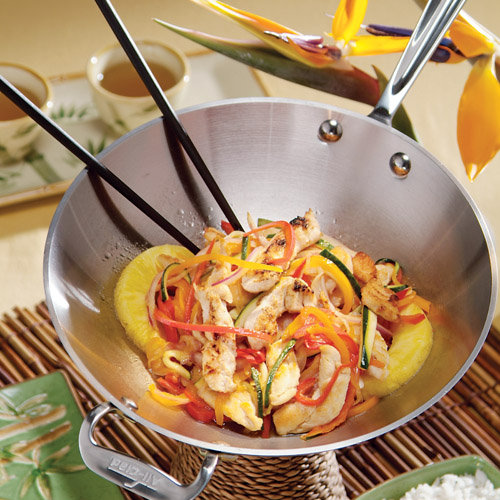 Paradise Pineapple Chicken
Prep: 20 minutes • Cook: 15 minutes • Serves: 4
1
pound boneless, skinless chicken breast tenderloins, each cut lengthwise in half
1/4
teaspoon salt
1/4
teaspoon ground black pepper
3
tablespoons canola oil
2
garlic cloves, minced
2
teaspoons peeled and grated fresh ginger
2
red and/or orange bell peppers, thinly sliced
1
medium red onion, cut in half and thinly sliced
1
small zucchini, cut into matchstick-thin strips
1/2
cup dry white wine
1/3
cup packed light brown sugar
1
can (8 ounces) sliced pineapple, drained and slices cut in half
2
cups cooked long grain white rice
1. Sprinkle chicken with salt and pepper. In large nonstick skillet or wok, heat 2 tablespoons oil over medium-high heat. Add garlic and ginger, and cook 1 minute, stirring constantly. Add chicken and cook 3 minutes or until lightly browned, stirring occasionally. With slotted spoon, transfer chicken to medium bowl.

2. Into same skillet, add bell peppers, onion, zucchini and remaining 1 tablespoon oil, and cook 3 to 4 minutes or just until vegetables are tender-crisp.

3. In small bowl, whisk together wine and brown sugar until brown sugar dissolves. Add wine mixture and chicken to skillet and cook 2 minutes. Add pineapple and cook 3 minutes or until chicken loses its pink color throughout and reaches an internal temperature of 165°; serve with rice.


Approximate nutritional values per serving: 457 Calories, 12g Fat (1g Saturated), 53mg Cholesterol, 206mg Sodium, 59 Carbohydrates, 3g Fiber, 25g Protein

Chef Tip
To easily grate ginger, peel and freeze ginger before grating.