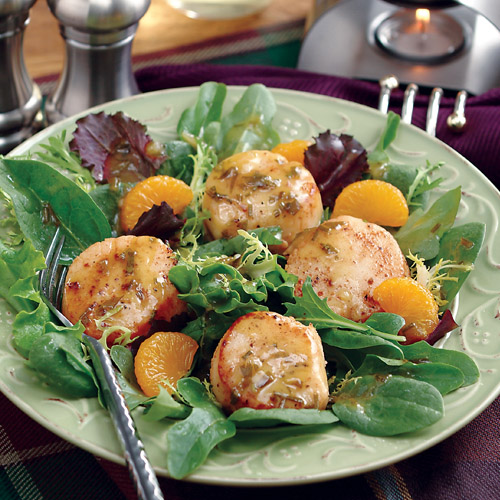 Seared Sea Scallop Salad
Prep: 10 minutes • Cook: 5 minutes • Serves: 4
1
small shallot, minced (2 tablespoons)
1/3
cup plus 1 tablespoon olive oil
2
tablespoons white wine vinegar
4
teaspoons chopped fresh tarragon leaves
2
teaspoons Dijon mustard
1
pound fresh dry or frozen (thawed) large sea scallops, patted dry
1/2
teaspoon salt
1/8
teaspoon ground black pepper
1
package (5 ounces) spring mix salad greens
1
can (11 ounces) Mandarin oranges in light syrup, drained
1. In small bowl, whisk together shallot, 1/3 cup oil, vinegar, tarragon and mustard; set aside. In large nonstick skillet, heat remaining 1 tablespoon oil over medium-high heat until very hot but not smoking. Add scallops to skillet; sprinkle with salt and pepper. Cook 4 to 6 minutes or until golden brown, turning once.

2. To serve, arrange salad greens on each of 4 dinner plates; top with scallops and orange segments. With spoon, pour vinaigrette over salads to serve.


Approximate nutritional values per serving: 332 Calories, 23g Fat (3g Saturated), 37mg Cholesterol, 491mg Sodium, 13g Carbohydrates, 3g Fiber, 21g Protein

Chef Tip
Remember to always pull off and discard the tough crescent-shaped muscle from the side of each scallop.