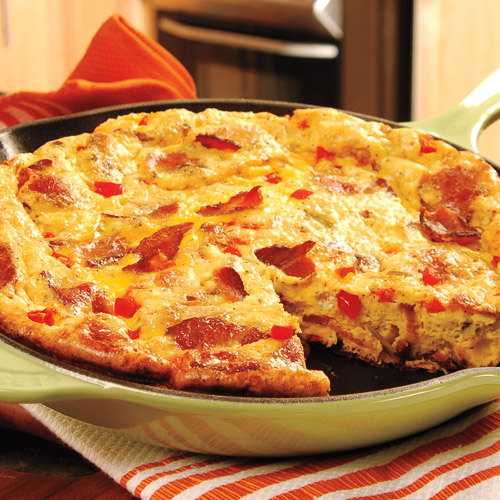 Smoked Bacon, Leek and Chevre Frittata
Prep: 20 minutes plus standing • Bake: 18 minutes • Serves: 8
1
package (16 ounces) smoked bacon, cut crosswise into 1/2-inch pieces
12
large eggs
1/2
cup whole milk
3/4
teaspoon salt
1/2
teaspoon ground black pepper
1
pinch ground nutmeg
1
medium leek, cut lengthwise in half, then sliced crosswise (about 2 cups)
1/2
red bell pepper, diced (about 1/2 cup)
1
package (4 ounces) Mediterranean herb and garlic chèvre (goat cheese), crumbled
1. Preheat oven to 375°. Preheat oven-safe large nonstick skillet over medium-high heat 2 minutes. Add bacon and cook 10 minutes or until almost crisp, stirring occasionally. Meanwhile, in large bowl, whisk together eggs, milk, salt, pepper and nutmeg until well blended. With slotted spoon, transfer bacon to plate. Discard most bacon fat.

2. Into same skillet, add leek and bell pepper and cook over medium-high heat 3 minutes. Add 3/4 of bacon and cook 2 to 3 minutes or until leek is lightly browned, stirring frequently. With rubber spatula, stir in egg mixture and cheese; sprinkle remaining bacon on top. Place skillet in oven and bake 18 to 20 minutes or until center is set. Remove frittata from oven and let stand 5 minutes. Run rubber spatula around edge of pan to loosen. Cut into 8 equal wedges to serve.


Approximate nutritional values per serving: 491 Calories, 39g Fat (15g Saturated), 373mg Cholesterol, 1285mg Sodium, 4g Carbohydrates, 1g Fiber, 29g Protein

Chef Tips
Place log of chèvre in freezer 10 minutes for easier crumbling.
For a reduced-fat frittata, replace eggs with 3 cups egg substitute and use skim milk instead of whole milk.