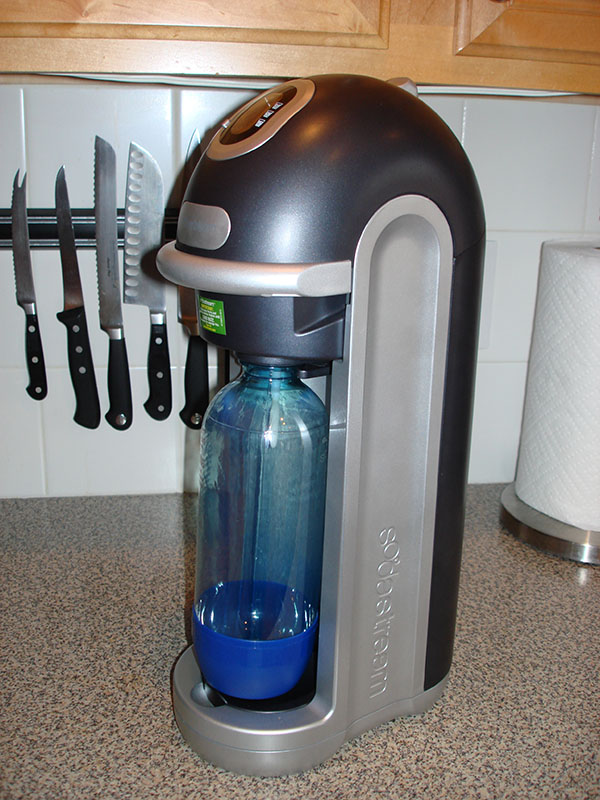 If you enjoy drinking soda water either by itself, flavored or in cocktails, then the SodaStream is a must-have gadget in your kitchen! One of the best features of the SodaStream is its ease of use. Simply insert the CO2 cylinder, screw in the reusable liter bottle provided and with a few short presses of the carbonating lever (or the carbonating button depending on the model) – presto, fizzy water
Not only is the carbonation level much stronger than purchased soda water, the carbonation will actually last into the following day if the bottle is sealed tightly. The unit is also cordless as it requires no batteries or electricity, making it totally portable, so you can have crisp, clean sparkling water wherever you choose.
Once you have your plain old water carbonated, you can flavor it any way you like. There are a variety of flavors available for purchase, including regular and diet sodas, iced tea, and energy and sports drinks, as well as all-natural, unsweetened flavored syrups in lemon-lime, raspberry and orange. You can also just stick with good old freshly squeezed lemon or lime juice. Just add your flavor of choice, shake gently and enjoy.
The BPA-free reusable bottles come in both hand-wash only and dishwasher safe. Some models even come with a "Fizz Chip", displaying the amount of gas left in the CO2 cylinder so you know when it's time to replace it. The empty CO2 cylinders can be exchanged for a full cylinder for a small fee, or you can purchase new cylinders at many locations that sell the SodaStream, including participating Staples, Bed, Bath & Beyond and Macy's stores.