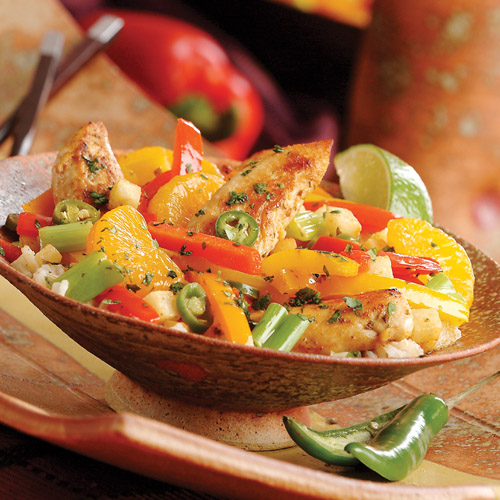 Southwest Chicken Stir-Fry
Prep: 25 minutes plus marinating • Cook: 10 minutes • Serves: 4
2
garlic cloves, minced
1/4
cup fresh lime juice
7
tablespoons olive oil
1-1/2
tablespoons chopped fresh cilantro leaves plus additional for garnish
2-1/4
teaspoons ground coriander
1/2
teaspoon crushed red pepper flakes
1/2
teaspoon kosher salt
1/4
teaspoon ground black pepper
1-1/4
pounds boneless, skinless chicken breasts, each cut lengthwise into 1/2-inch strips
1
cup uncooked instant brown rice
2
orange, red and/or yellow bell peppers, sliced (about 3 cups)
1
small jalapeño pepper, sliced
3
green onions, sliced
1
can (11 ounces) Mandarin orange segments in light syrup, drained
Lime wedges (optional)
1. In medium bowl, whisk together garlic, lime juice, 6 tablespoons oil, 1 tablespoon cilantro, coriander, red pepper flakes, salt and black pepper. Place chicken in large zip-top plastic bag. Pour 1/2 cup marinade over chicken. Seal bag and refrigerate 1 hour to marinate.

2. Prepare rice as label directs.

3. Meanwhile, remove chicken from marinade; discard marinade. Heat large skillet or wok over high heat. Add remaining 1 tablespoon oil and chicken, and cook 4 minutes, stirring occasionally. Add bell peppers and jalapeño, and cook 3 to 4 minutes or until peppers are tender-crisp, stirring occasionally. Stir in green onions, remaining 1/2 tablespoon cilantro and remaining marinade. Cook 1 minute, stirring. Add orange segments and cook just until chicken loses its pink color throughout and internal temperature reaches 165°, stirring occasionally. Serve stir-fry over rice, garnished with cilantro and lime wedges, if desired.


Approximate nutritional values per serving: 499 Calories, 25g Fat (4g Saturated), 66mg Cholesterol, 229mg Sodium, 39g Carbohydrates, 4g Fiber, 29g Protein

Chef Tip
Try substituting fresh Mandarin orange segments (tangerines, clementines, etc.) in place of canned. Stir-frying is a healthy cooking method in which small pieces of food are cooked quickly over high heat in a small amount of oil, preserving the crisp textures, bright colors and nutrients of the vegetables.