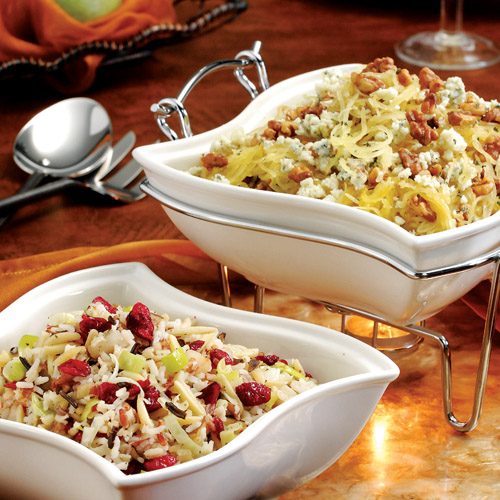 Spaghetti Squash with Gorgonzola, Walnuts & Sage
Prep: 15 minutes, plus cooling • Bake: 40 minutes • Serves: 12
1
spaghetti squash (about 4 pounds), cut lengthwise in half and seeds removed
6
tablespoons unsalted butter
1-1/2
cups chopped walnuts
1-1/2
tablespoons finely chopped fresh sage leaves
3/4
cup crumbled Gorgonzola cheese
1/2
teaspoon salt
1/2
teaspoon ground black pepper
1. Preheat oven to 350°. Place squash, cut side down, on rimmed baking pan. Add enough water to pan to come 1/4 inch up sides of squash. Bake 40 to 45 minutes or until squash is tender. Let stand 10 minutes or until cool enough to handle.

2. Meanwhile, in large skillet, melt 4 tablespoons butter over low heat. Add walnuts and cook 4 to 5 minutes or until walnuts are toasted and butter begins to brown. Add sage and cook 1 minute.

3. With fork, scrape inside cavity of squash into spaghetti-like strands; discard skin. In large microwave-safe bowl, heat squash and remaining 2 tablespoons butter in microwave oven on high 3 minutes or until hot, stirring once. Add cheese, salt, pepper and walnut mixture to squash and toss to combine.


Approximate nutritional values per serving: 212 Calories, 17g Fat (6g Saturated), 22mg Cholesterol, 207mg Sodium, 11g Carbohydrates, 1g Fiber, 6g Protein