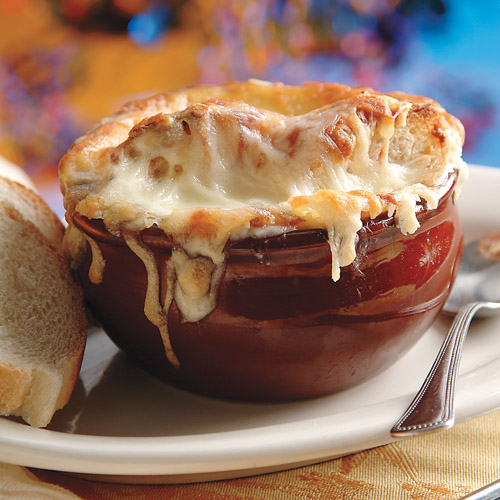 Traditional French Onion Soup
Prep: 10 minutes • Cook/Bake: 1 hour 10 minutes • Serves: 6
2
large yellow onions, each cut in half and thinly sliced
1
large red onion, cut in half and thinly sliced
4
tablespoons olive oil
4
tablespoons unsalted butter
1
bay leaf
1
tablespoon granulated sugar
1/4
teaspoon dried thyme
3
cans (14 ounces each) beef broth
1/4
cup cognac or brandy
1/2
teaspoon ground black pepper
1
teaspoon Dijon mustard
1/2
teaspoon kosher salt
1/2
French baguette, cut into twelve 1/2-inch thick slices
6
slices Swiss cheese
6
teaspoons grated Parmesan cheese
1. Preheat large saucepot over medium-high heat. Add onions, 3 tablespoons oil and butter; cook 10 minutes or until onions begin to soften, stirring frequently. Reduce heat to medium-low; stir in bay leaf, sugar and thyme. Cook 30 to 35 minutes or until onions turn golden brown, stirring occasionally. Stir in broth, cognac and pepper; heat until mixture begins to simmer. Simmer 20 minutes. Stir in mustard and salt. Discard bay leaf.

2. Meanwhile, preheat oven to 400°. Arrange bread slices on rimmed baking pan. Brush top of bread slices with remaining 1 tablespoon oil. Bake bread 10 to 12 minutes or until lightly browned; remove bread to plate.

3. Place 6 ovenproof soup crocks or bowls on same baking pan. Ladle soup into bowls. Top each with 2 slices bread, then 1 slice Swiss cheese. Sprinkle cheese with 1 teaspoon Parmesan. Bake 15 to 18 minutes or until cheese melts and begins to bubble and brown.


Approximate nutritional values per serving: 424 Calories, 24g Fat (10g Saturated), 42mg Cholesterol, 1432mg Sodium, 29g Carbohydrates, 2g Fiber, 19g Protein

Chef Tip
You can substitute apple juice for the cognac or brandy.